Tibetan Coral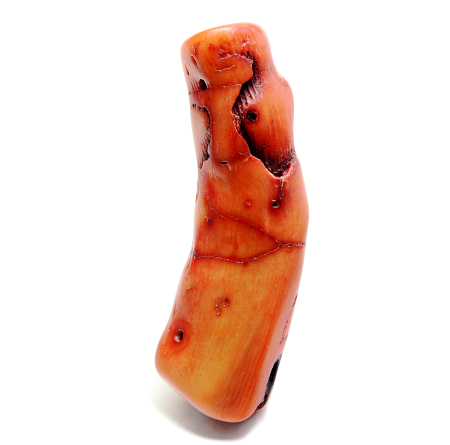 Tibetan Coral has the meaning and properties to regain passion that has been lost. It is a gemstone to help you to take a step towards the future again. It will remind you of the dream you were giving up. It kindles lights in the faded world.
---
Tibetan Coral has the meaning and properties to solidify the foundation of life. It is a gemstone which raises comprehensively the "interpersonal luck", "business luck" and "health luck" which are the basis of life. It will build up the foundation that won't crumble with a little accident. Please use it when you seek stability and peace.
---
Tibetan Coral has the meaning and properties to increase the owners adaptability. It is a gemstone to give you survival strengths in any environment. It is used when you feel many changes. It is also recommended for cases such as many unspecified people are involved. It will help you master a variety of communication skills.
---
By having dyed Fossil Coral that have been taken from the land red, it was called "Tibetan Coral". It is known that the general Buddhists in Tibet and China have loved it. A precious red jewelry Coral that could have been taken in the sea was worn only by some high priests. It is Tibetan Coral that was created such as even the general congregation could have. If the Fossil Coral is colored red, it is also available from the particular location. Currently as its remnant, the Coral dyed in China is called "Tibetan Coral". Coral called "Keratoisis" is dyed red. There are two types of Tibetan Coral, so please check out the types well.
[1] Fossil Coral dyed red
[2] Keratoisis dyed red in China
---
Distribution volume of Tibetan Coral is normal. You can find it by looking for gemstone shops that are strong in Coral. As it is not precious Coral, the price would be cheap. Most of them are dyed red. Accessory type is popular to wear Tibetan Coral. "Bracelet", "necklace", "earrings" etc. are available.
---
Tibetan Coral has the meaning and properties to make thinking positive. It is a gemstone that makes it easy to attract positive energy.? To obtain good luck and success, some degree of positiveness is indispensable. Good luck you have gotten will produce even greater positive energy. It is a charm to help to create a chain of fortune.
---
Tibetan Coral has the meaning and properties to avoid evils. It is a gemstone to be said to prevent various evil energies. Especially in Tibet, it is useful as a sacred talisman. It will help to maintain good flow.
Chakra Chart of Tibetan Coral
9th Heaven Chakra
[God]

8th Air Chakra
[Cloud]

7th Crown Chakra
[Soul]

6th Third Eye Chakra
[Wisdom]

5th Throat Chakra
[Voice]

4th Heart Chakra
[Love]

3rd Solar Plexus Chakra
[Light]

Orange Tibetan Coral
[Guts] Persistence

Red Tibetan Coral
[Life] Life Energy

0th Earth Chakra
[Person]
Author Hayasaka Yoshino

Hayasaka Yoshino is a stone healer that usually works in Tokyo area, Japan. Yoshino is also famous as a fortune teller and seen over 10,000 people. "Fortune-telling counseling", which finds out the best gemstone for the client, received a high reputation. Representative director of LWE Co., Ltd.
Other Gemstone Recommendation