Cantera Opal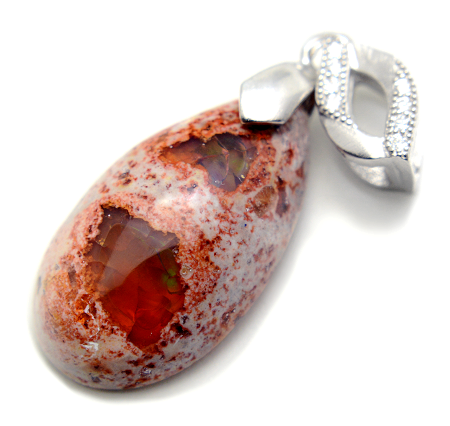 Cantera Opal has the meaning and properties of leading life in a bright direction. It is a gemstone full of "energy of light". It is perfect for when you want to escape from "stagnation period" or "plateau" of your life. You must gain the chance of grasping the flow of fortune.
---
Cantera Opal has meaning and properties to enhance creativity. It is a gemstone that emphasizes innovative ideas. It will create works and services that attract people's interests. It is a lucky charm that will make you flourish as a pioneer in a new era.
---
Cantera Opal has meaning and properties to relieve negative emotions and thoughts. It is a gemstone that cleanses accumulated negative energy cleanly. It will prevent a chain of negativity from continuing. It brings the owner back to the bright road.
---
Cantera Opal is a gemstone born from the rock "Rhyolite". Rhyolite is a kind of "Igneous Rock". It is a rock made from magma formed by cooling on the earth's surface. Opal is born in the cavity part of this rock. The cavity part is a trace of gas escaping. Opal sometimes is born in the rock "Pegmatite" or "Volcanic Rock".
---
Distribution volume of Cantera Opal is small. It won't be found in most gemstone shops. It is possible to purchase from some shops that are strong for Opal. A few is also sold at a few shops that are strong to rare gemstones and mineral specimens. Cantera Opal produced in Mexico is the most famous. As there is little information, please check with "Mexican Opal". Mexican Opal often includes Cantera Opal.
---
Cantera Opal is popular with gemstones and accessories. As it looks unique, you can enjoy enough just watching the gemstones. Each gem shines differently so that there are many people who collect it. In the case of accessories, it is processed into a necklace etc. by taking advantage of its shape.
---
Cantera Opal has meaning and properties of regaining lost confidence. It is a healing stone that gently heals past failure and damage. You will gain strength to walk toward the future. It is an amulet that makes the viewpoint change from "past" to "future".
---
Cantera Opal has meaning and properties to enhance the daily happiness feeling. It is a gemstone that prevents eyes from going to negativity. It will improve 'negative thinking' to 'positive thinking'. It'll be used when you want to enjoy life for fun.
Other Gemstone Recommendation