Vajra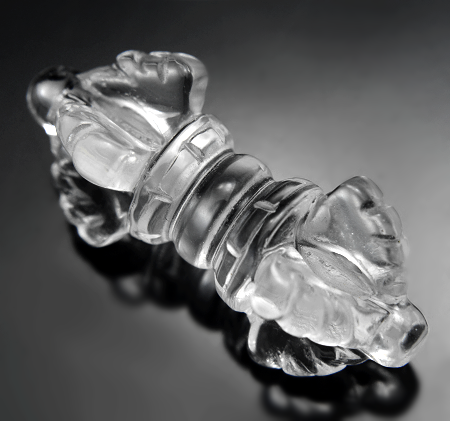 Vajra is a kind of ritual implements. It has the power to destroy negative energy or evil minds. Vajra made of a gemstone are also popular.
- Quartz
- Agate
- Tiger Eye
Vajra can be made of those gemstones. Vajra carved from a gemstone have very strong energy.
---
Vajra is a kind of weapon used by a god. It is known as a weapon of Indra in Buddhism. This weapon smashes enemies by controlling thunder. Moreover, it is said that the hardness of Vajra is higher than Diamond. The amulets with a shape of Vajra has very strong power. It is also a good amulet for people who are engaged with thunder or electricity.
---
Vajra has meaning and properties of winning a battle. It would give you the power to beat a strong enemy. It will let you perform your best at a battle you can't lose. You can also gain strong fighting spirit and courage at the same time.
---
There are various kinds of shapes for Vajra. Any shape can give you its basic power. The materials for it are gemstones, brass, or copper. It is useful because the power of Vajra made of a gemstone will be amplified. Vajra made of Quartz is the most popular.
---
Vajra is rare in the market. It is sold in ritual implement shops or gemstone shops that are good at sculptured crafts. Vajra is a strong amulet and some fans strongly support it. The price is set depending on the material, the size, and the beauty of the carving. If it is a small size, the price is fairly affordable.
---
Vajra is popular as a supporting item for meditation. It is easy to use; you only need to hold it lightly in your hand and close your eyes. Please breathe deeply several times while having it in your hand. You can feel warm energy coming into your body from your hand. You would be able to have the energy of Vajra inside your body. Please try it once since it is very easy.
---
Vajra has meaning and properties of bringing out its owner's potential. It is an amulet that would let you show your true ability. It can also give you passion to work on things seriously. Vajra would stop your spiritless days.
---
Vajra has meaning and properties of increasing your will power. It is an amulet that would clear all the confusion in your mind. It would let you achieve one goal in a full speed. Vajra will prevent things to be halfway done.
Chakra Chart of Vajra
Clear Vajra
[God] Creativity

Silver Vajra
[Cloud] Application

7th Crown Chakra
[Soul]

6th Third Eye Chakra
[Wisdom]

5th Throat Chakra
[Voice]

4th Heart Chakra
[Love]

Gold Vajra
[Light] Productivity

2nd Sacral Chakra
[Guts]

1st Root Chakra
[Life]

Black Vajra
[Person] Will Power
Author Hayasaka Yoshino

Hayasaka Yoshino is a stone healer that usually works in Tokyo area, Japan. Yoshino is also famous as a fortune teller and seen over 10,000 people. "Fortune-telling counseling", which finds out the best gemstone for the client, received a high reputation. Representative director of LWE Co., Ltd.
Other Gemstone Recommendation