Freshwater Pearl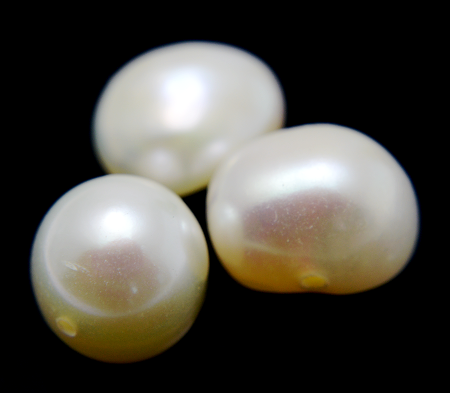 Freshwater Pearl has the meaning and properties of purifying inner-body energy. It is an amulet that can clean the negative energy accumulated inside you. It is good to use when you want to reset rough feelings and thoughts. Freshwater Pearl is useful when you want to get back pure mind.
---
Freshwater Pearl has the meaning and properties of carrying through the belief. This amulet can prevent you from failure. It would give you the power of will and the ability to continue that are necessary to make your goal into reality. It is also useful when you want to live a life without any regrets.
---
Freshwater Pearl has the meaning and properties of making your thinking simple. This amulet can protect you from getting confused by excessive thoughts. It will let you concentrate your energy on one thing. It would help you grab a big success rather than a small success.
---
Freshwater Pearl is made inside shells living in lakes or rivers. It can be fished from shells such as Hyriopsis schlegelii. The culturing of Pearl was succeeded in the late 1800s. Since then, most of the Pearls are cultured.
---
The most famous type of Freshwater Pearl has a white color. Other than that, the pink or orange color is also popular. There are 2 types of Freshwater Pearl: natural ones and dyed ones. Many kinds of colors are available for dyed ones, and there are gold, black, green, light blue, purple, brown, and silver. Please check if it is a natural one or a dyed one before you buy it.
---
The price of Freshwater Pearl varies depending on its quality. It is determined based on gloss, size, color, and scratches. Cheap ones are easy to purchase. It will be useful as a casual fashion item. High-quality ones have a very beautiful shine. It will be useful in formal situations, too.
---
Freshwater Pearl is mainly used for accessories. There are many kinds of designs since it is a very popular item. It will be made into necklaces, earrings, or bracelets. By wearing it, you can increase its effectiveness as an amulet.
---
Freshwater Pearl has the meaning and properties of healing sorrow in the past. It is popular as an amulet with great healing energy. You would be able to get back vitality to make progress for the future. It can revive your original brightness.
---
Freshwater Pearl has the meaning and properties of warding off evil spirits. This amulet can protect you from evil energy or traps. It will give you a peaceful and fulfilling time. It would let you grab a key to win without losing.
Chakra Chart of Freshwater Pearl
White Freshwater Pearl
[God] Creativity

Gray Freshwater Pearl
[Cloud] Application

Purple Freshwater Pearl
[Soul] Intuition

Blue Freshwater Pearl
[Wisdom] Thinking Ability

5th Throat Chakra
[Voice]

Green Freshwater Pearl
[Love] Tolerance

Golden Freshwater Pearl
[Light] Productivity

Orange Freshwater Pearl
[Guts] Persistence

Pink Freshwater Pearl
[Beauty] attractiveness

Black Freshwater Pearl
[Person] Will Power
Author Hayasaka Yoshino

Hayasaka Yoshino is a stone healer that usually works in Tokyo area, Japan. Yoshino is also famous as a fortune teller and seen over 10,000 people. "Fortune-telling counseling", which finds out the best gemstone for the client, received a high reputation. Representative director of LWE Co., Ltd.
Other Gemstone Recommendation