Ghanta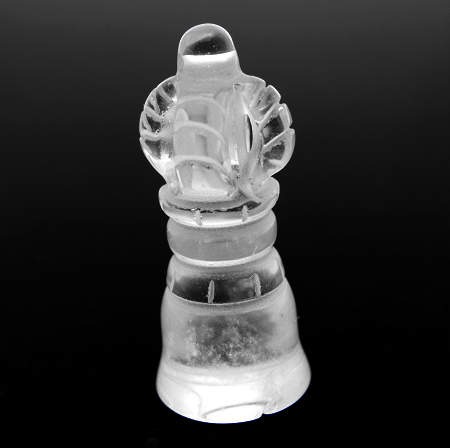 Ghanta is a type of ritual implements. It is a sacred item indispensable for Tibetan Buddhism. It is used for ceremonies. It is a bell that has spirit power and it can be used for various purposes.
---
Ghanta is a kind of "Vajra". Vajra is known as a weapon to appear in the Indian myth. It is used by the war god "Indra". Vajra has the ability to maneuver lightning and attack with it.The hardness of the body is said to be "Diamond". It is believed there is also the ability to break down the earthly desires.
---
Ghanta is a half of "Vajra" turned into a bell. Ringing the bell will clean the surrounding's energy. It is also said to be "the sound that makes the gods delight." With these characteristics, it is an indispensable item for ceremonies. You can easily clean up the space if you own one Ghanta. It is an excellent item to clean air at home or office. It is also good to ring several times before meditation. It makes it easy to connect with sacred energy.
---
Ghanta has the meaning and properties to enhance the owner's expressive power. It is an amulet that makes you flash the best ideas and expresses them freely. Please ring Ghanta several times when you are stuck for ideas. It will release all the thoughts in the back of your mind.
---
Ghanta has the meaning and properties to correct future direction. It is an amulet that will tell you what to do now. It reminds you of 'your fate' given from heaven. It will forcefully dispel the stray of your life.
---
Ghanta has the meaning and properties to heal past trauma. It is an amulet to gently heal a deeply injured heart. It also has healing energy in Ghanta sound. It will support to regain energy in order to overcome the past and advance to the future.
---
Ghanta has the meaning and properties to awaken the owner's potential. It is an amulet to open all power of 100%. Please use and ring Ghanta several times in an aspect that you cannot lose. You will also have the power to change "impossible" to "possible".
---
There are few dealers of Ghanta. It is sold at ritual implements shops or some gemstone shops. Brass type is common. Natural stone type made from Quartz is also popular. You cannot make sounds with a natural stone type Ghanta, but you can obtain the same properties by shaking it.
Other Gemstone Recommendation