Baroque Pearl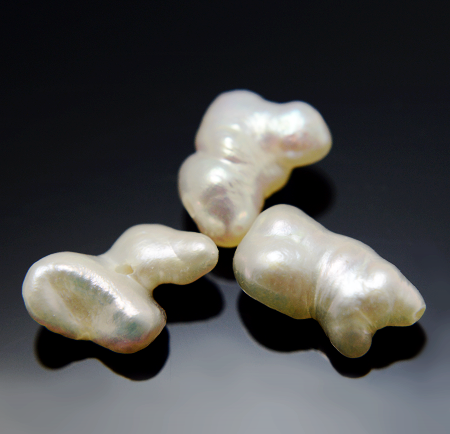 Baroque Pearl has the meaning and properties of leading life to prosperity. It is popular as an amulet that attracts "success" and "good luck". It gives "ability" and "wisdom" until things succeeds. It is also recommended when you want to greatly raise your financial fortune.
---
Baroque Pearl has the meaning and properties of changing "misfortune" to "fortune". It is a talisman to use when aiming at reversal of life. It becomes so more powerful that it is an unhappy situation. It will make you recover the return only for hardships.
---
Baroque Pearl has the meaning and properties to enhance the charm of the owner. It is a charm that is passed down as "keeping youthfulness". It creates a state filled with both body and mind. It will support you to regain the radiances like boys and girls.
---
Baroque Pearl is uneven shaped Pearl. The basic power is about the same as a normal round Pearl. It is recommended for those looking for unique Pearls. If you use Baroque Pearl skillfully, an attractive work is completed. Because you cannot make exactly the same shape, it will be finished as "your own item".
---
Baroque Pearl has mysterious charm. People have a psyche that is attracted to "irregular" rather than "perfectly uniform". It is the same reason why an actor with little unique facial appearance is popular. There are unexpectedly many those who like Baroque Pearls rather than beautiful round Pearls. Please also try Baroque Pearl by all means round Pearl.
---
Recognition that "Pearl = round shape" is strong. If you actually look for a Pearl, you will find many round types. The distribution volume of Baroque Pearl must be small. It is sold at shops dealing with a wide range of Pearl products. Luxury Pearl shop lineup is almost a round Pearl.
---
Baroque Pearl is cheaper than round Pearl. Affordable pricing is also a popular secret. Most of Baroque Pearl is processed into accessories. "Necklace", "pierces", "bracelet", etc. are available.
---
Baroque Pearl has the meaning and properties to enhance inspiration ability. You will get the best ideas to create great success. Ultimate things and services that overwhelm others are created. It is also a good amulet when you want to break through the stagnant situation.
---
Baroque Pearl has the meaning and properties to enhance intuition. It is an amulet that makes you get an early look at the vision of the future. It will make you tell "correct answer" from "incorrect answer" of things sensuously.It will allow you to "win a success" and "avoid a failure" at the same time.
Chakra Chart of Baroque Pearl
White Baroque Pearl
[God] Creativity

Gray Baroque Pearl
[Cloud] Application

Purple Baroque Pearl
[Soul] Intuition

Blue Baroque Pearl
[Wisdom] Thinking Ability

5th Throat Chakra
[Voice]

Green Baroque Pearl
[Love] Tolerance

Golden Baroque Pearl
[Light] Productivity

Orange Baroque Pearl
[Guts] Persistence

Pink Baroque Pearl
[Beauty] attractiveness

Black Baroque Pearl
[Person] Will Power
Author Hayasaka Yoshino

Hayasaka Yoshino is a stone healer that usually works in Tokyo area, Japan. Yoshino is also famous as a fortune teller and seen over 10,000 people. "Fortune-telling counseling", which finds out the best gemstone for the client, received a high reputation. Representative director of LWE Co., Ltd.
Other Gemstone Recommendation