Pink Opal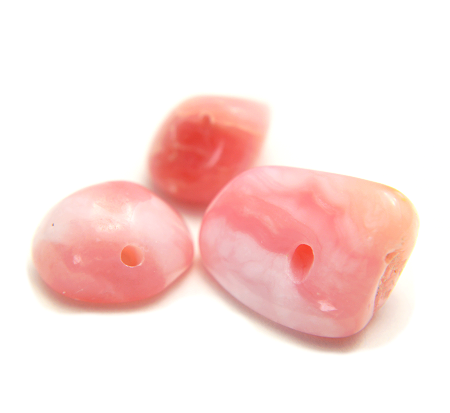 Love and Relationships

[1]

Enhance love energy


[2]

Attract a fatal meeting


[3]

Understand each other deeply


[4]

Support reconciliation


[5]

Amulet for babies

Money and Business

[1]

Flash on an idea


[2]

Acquire new capabilities


[3]

Take the flow of luck


[4]

Keep your mind calm


[5]

Spread opportunity

Other Energy

[1]

Give hope to life


[2]

Stabilize the mind


[3]

Heal past wounds


[4]

Decipher the true message


[5]

Purification of energy

Pink Opal has a meaning and properties of enhancing love and thoughtfulness. It is a gemstone that is also called as "a stone of hope" and it has been loved by people for a long time. This gemstone is also known for the power of bringing out people's potential and enhancing it.
---
Opal has many types of colors. The most popular one is White Opal. Pink Opal is pretty rare. Please look for it patiently if you need one. The ones with the highest quality have beautiful clear pink color. It gets more expensive as the color gets more beautiful.
---
The power of Pink Opal is very delicate and gentle. It is known as a gemstone with the meaning and properties of healing. Please use it when you want to calm down or ease your trauma. It is also good for sensitive people.
---
Pink Opal can vitalize owner's love energy. If you feel like you don't have enough love from others, please try the meaning and properties of Pink Opal. It is useful for people who get involved with other people a lot. This gemstone would also help you when you need to give big love to others.
---
Pink Opal is a gemstone that contains slight water. This gemstone has water energy in it. It would bring your aura back to the right condition. Please use the power of Pink Opal when you feel like your heart and soul are stagnant. This gemstone has a meaning and properties of purifying. It would clear your harsh feelings and make your mind peaceful.
---
Pink Opal is also called as "Angel's Stone" or "Queen's Stone." One of the reasons of those names is just because it is beautiful. The biggest reason is the feminine and gentle power of it. It has been told that you can get connected unknowingly with the heavens by using Pink Opal. You would be able to receive holy messages for the next action. It would help the owner to expand a chance.
---
Pink Opal has a meaning and properties of fixing the past world. You can also use it as an amulet when you have unforgettable hurt feelings in the past. It could heal and recover that pain by its pure energy. This gemstone is also good for people who often have nightmares. It would relieve your stress and give you the power to step forward.
Chakra Chart of Pink Opal
9th Heaven Chakra
[God]

8th Air Chakra
[Cloud]

7th Crown Chakra
[Soul]

6th Third Eye Chakra
[Wisdom]

5th Throat Chakra
[Voice]

4th Heart Chakra
[Love]

3rd Solar Plexus Chakra
[Light]

2nd Sacral Chakra
[Guts]

Pink Opal
[Beauty] attractiveness

0th Earth Chakra
[Person]
Pink Opal Data
Chemical formula
SiO2 nH2O
Mohs scale
5.5-6.5
Specific gravity
1.99-2.25
Production
Australia
Mexico
Slovak Republic
Combination

+ Kunzite
Grow as a person of greatness
Author Hayasaka Yoshino

Hayasaka Yoshino is a stone healer that usually works in Tokyo area, Japan. Yoshino is also famous as a fortune teller and seen over 10,000 people. "Fortune-telling counseling", which finds out the best gemstone for the client, received a high reputation. Representative director of LWE Co., Ltd.
Other Gemstone Recommendation