Red Coral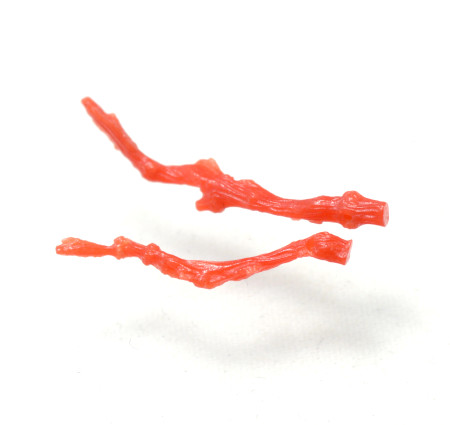 Love and Relationships

[1]

Increase your charm


[2]

Passionate romance


[3]

Develop relationships


[4]

Grab a good match


[5]

Amulet for babies

Money and Business

[1]

Make your work prosperous


[2]

Win a victory


[3]

Improve productivity


[4]

Give the courage to challenge


[5]

Guide people correctly

Other Energy

[1]

Increase life energy


[2]

Support circulation of the mind


[3]

Improve creativity


[4]

Increase energy


[5]

Gain confidence in yourself

Red Coral is a gemstone that has a meaning and properties of vitalizing life energy. This special red color symbolizes "blood." It can strongly circulate energy in a human body. This gemstone is useful when you want to have energy for your life or sweep away sluggishness. It may bring back owner's energy to the right condition.
---
Red Coral has a meaning and properties of prosperity. It is both effective for business and love. If you use this gemstone for love, it would make the relationship more passionate. This gemstone can help increasing the owner's attraction and make a progress on relationships. If you use it for business, it can enhance your creativity. By the strong power of Red Coral, people would be able to develop things greatly.
---
From ancient times, Red Coral was worn as accessories. It has been told that we can have its energy effectively by wearing it. Necklaces, earrings, and bracelets are pretty popular. Please look for the ones that are easy for you to wear. There are pink, white, blue, and black corals other than red. The meaning and properties will be different by its color, so please choose the best one for you. Corals are collected in Mediterranean Sea, Australia, Africa, Japan, etc.
---
Red Coral has a meaning and properties of strengthening your mind. It can give you power to win a battle. Red Coral is a gemstone that symbolizes Mars. Mars has been a sacred symbol of the God of War from the old days. It is good to use when you want to win or want to have courage to face a fight.
---
Red Coral is a gemstone that can be a leader of things. It is used when you want to lead people or start something new. Red Coral has a meaning and properties of management and control. Many managers and CEOs of a company highly valued this gemstone. It is good to have when you want to increase your self-confidence or have strong will. This gemstone is popular among technicians or athletes who are evaluated from skills, or doctors and lawyers who have lots of responsibility on their job.
---
Red Coral has a meaning and properties of balancing energy. Basically, it radiates passionate energy, but when there is too much energy, this gemstone tries to balance it. Controlling inner heat is also important strength. A strong heat is not always the best, sometimes it is better to use a medium heat or a low heat. Please try this gemstone if you are stressed out or too busy. Red Coral would balance the needed energy well.
Chakra Chart of Red Coral
9th Heaven Chakra
[God]

8th Air Chakra
[Cloud]

7th Crown Chakra
[Soul]

6th Third Eye Chakra
[Wisdom]

5th Throat Chakra
[Voice]

4th Heart Chakra
[Love]

3rd Solar Plexus Chakra
[Light]

2nd Sacral Chakra
[Guts]

Red Coral
[Life] Life Energy

0th Earth Chakra
[Person]
Red Coral Data
Chemical formula
CaCO3 +a
Mohs scale
3.5-4
Specific gravity
2.6-2.7
Production
Mediterranean
Japan
Combination

+ Amethyst
Charm of perpetual youth and longevity

+ Sugilite
Exercise the original ability
Other Gemstone Recommendation