Red Jasper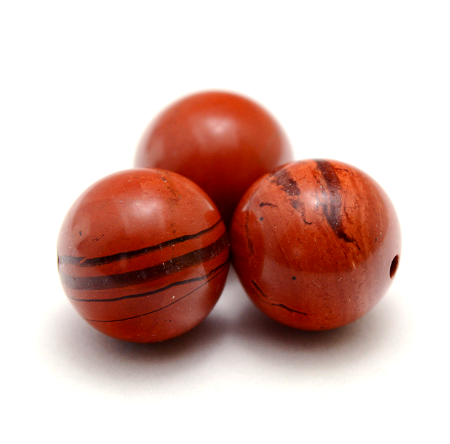 Love and Relationships

[1]

Develop a relationship


[2]

Choose a right person


[3]

Overcome trauma


[4]

Understand another deeply


[5]

Balance emotions

Money and Business

[1]

Awake the power to live


[2]

Improve endurance


[3]

Increase insight


[4]

Complete the task


[5]

Increase creativity

Other Energy

[1]

Strengthen mental strength


[2]

Improve understanding


[3]

Recover from stress


[4]

Guide to the right direction


[5]

Improve metabolic energy

Red Jasper is a gemstone that has a meaning and properties of strengthening your mind. It is a gemstone that can let us link with deep inside the earth and it has very strong wave motion. When you want to balance your emotion or overcome stress, this is a good gemstone to have. Red Jasper also has a meaning and properties of enhancing your insight. By strengthening your mind, you may be able to notice the true value of things. This gemstone would help you understand things deeply.
---
Red Jasper is a red gemstone. The color will differ by the place of production or the time. Red Jasper is a mixture of many kinds of gemstones, so various colors are mixed. There are brownish-red ones and orangey-red ones. Please choose the Red Jasper you like.
---
Red Jasper has a meaning and properties of amplifying owner's energy. If you want the power to live or good stamina, please try this gemstone. It may bring out your instinct and power as a living creature that all people have naturally. Humans can easily get off the track. Red Jasper can help the owner come back to the right way. It has been told that it can help you understand which choice is the correct one.
---
Red Jasper has been believed for its meaning and properties of enhancing creativity. It may release unrealized power in the owner and generates new energy. This gemstone is good for people who want to make profits on business. It would strongly support owner's work and life. The strong energy of Red Jasper can heal the owner's past. It would clear all the traumas and guilt in the past. Please try Red Jasper if you want to live positively.
---
The energy of Red Jasper is helpful to recognize your dreams and goals. Red Jasper has a meaning and properties of understanding the theme of life. It is good to use when you want to find out why you were born in this world and what you want to achieve in your life. This gemstone would help your life become more meaningful and bright. It is also good for people who get anxious easily or worry things too much. It would calm you down and bring you back to a good condition, so you can make the right decision.
---
Red Jasper would teach you many important things in life. If you are at a loss, please use the meaning and the effect of Red Jasper.
Chakra Chart of Red Jasper
9th Heaven Chakra
[God]

8th Air Chakra
[Cloud]

7th Crown Chakra
[Soul]

6th Third Eye Chakra
[Wisdom]

5th Throat Chakra
[Voice]

4th Heart Chakra
[Love]

3rd Solar Plexus Chakra
[Light]

2nd Sacral Chakra
[Guts]

Red Jasper
[Life] Life Energy

0th Earth Chakra
[Person]
Red Jasper Data
Chemical formula
SiO2 +a
Mohs scale
7
Specific gravity
2.57-2.91
Production
India
Indonesia
Brazil
Combination

+ Charoite
Raise the morale of the surroundings

+ Sardonyx
Understand the problem correctly
Author Hayasaka Yoshino

Hayasaka Yoshino is a stone healer that usually works in Tokyo area, Japan. Yoshino is also famous as a fortune teller and seen over 10,000 people. "Fortune-telling counseling", which finds out the best gemstone for the client, received a high reputation. Representative director of LWE Co., Ltd.
Other Gemstone Recommendation