Sea Blue Chalcedony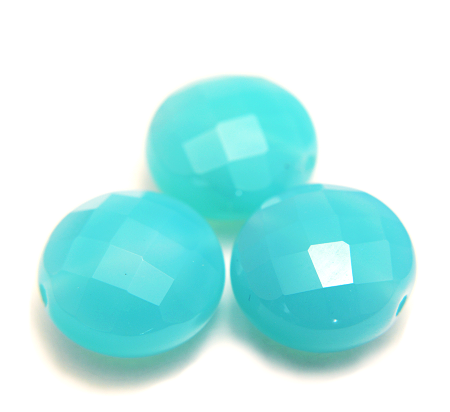 Love and Relationships

[1]

Understand each other


[2]

Attract another


[3]

Facilitate communication


[4]

Stabilize relationships


[5]

Take back your honest self

Money and Business

[1]

Increase concentration


[2]

Pull out the original ability


[3]

Succeed in a plan


[4]

Enlarge your network


[5]

Realization of your dream

Other Energy

[1]

Talisman against evil


[2]

Change feelings


[3]

Get out of the stagnation period


[4]

Give a deep sense of peace


[5]

Gain spiritual strength

Sea Blue Chalcedony is a gemstone that has a meaning and properties to clear the tension. It is known as a guardian gemstone who gives peace of mind to the owner. It is used for people with a sense of tension, those who want to demonstrate their original abilities in exams, etc. Sea blue chalcedony is also used when you want to speak well in public. By eliminating body tension, it will facilitate communication.
---
Sea Blue Chalcedony is a gemstone that makes love and human relationships smooth. It is believed that the balance of emotions is arranged and relationships with people get smooth. There is also a meaning and properties to organize and clear your heart. Sea Blue Chalcedony will obviously make the owner's emotions obedient. Use it for when you box words or emotions in your heart. You will get support to realize comfortable communication.
---
Sea Blue Chalcedony is a gemstone that inherits the properties of the Crystal. Ingredients of Quartz are contained and similar meaning and properties can be obtained. Crystal is the world's most popular gemstone and is said to have excellent purification capability. Natural energy is enclosed, and it has been passed down as a spiritual enlightenment is opened. It is said to absorb the owner's dreams and goals and realize it.
---
Sea Blue Chalcedony is a gemstone symbolizing the name "sea" as its name. Like the constantly circulating sea water, there is a meaning and properties to improve the flow of luck. It is best for when you want to get out of the stagnation period, reset the full feelings, etc. The sea is also a symbol of the mother's body. Using Sea Blue Chalcedony will give you a deep sense of peace. It is also used for those who want to relieve anxiety and those who want to prevent nightmares. Sea Blue Chalcedony is a guardian stone that heals negative energy. You can also use it for amulets to avoid evils.
---
There are various kinds of Chalcedony, each meaning and properties are different. There are two types of blue, "Blue Chalcedony" and "Sea Blue Chalcedony" that dark blue. Sea Blue Chalcedony is dyed and improves the beauty of appearance. It has been useful in cases where you want beautiful light blue accessories. It is also effective when your lucky color is light blue. In general, Sea Blue Chalcedony is more expensive than Blue Chalcedony. The beauty of coloring has been highly appreciated around the world.
Chakra Chart of Sea Blue Chalcedony
9th Heaven Chakra
[God]

8th Air Chakra
[Cloud]

7th Crown Chakra
[Soul]

6th Third Eye Chakra
[Wisdom]

Sea Blue Chalcedony
[Voice] Expression

4th Heart Chakra
[Love]

3rd Solar Plexus Chakra
[Light]

2nd Sacral Chakra
[Guts]

1st Root Chakra
[Life]

0th Earth Chakra
[Person]
Combination
Author Hayasaka Yoshino

Hayasaka Yoshino is a stone healer that usually works in Tokyo area, Japan. Yoshino is also famous as a fortune teller and seen over 10,000 people. "Fortune-telling counseling", which finds out the best gemstone for the client, received a high reputation. Representative director of LWE Co., Ltd.
Other Gemstone Recommendation