Iron Rose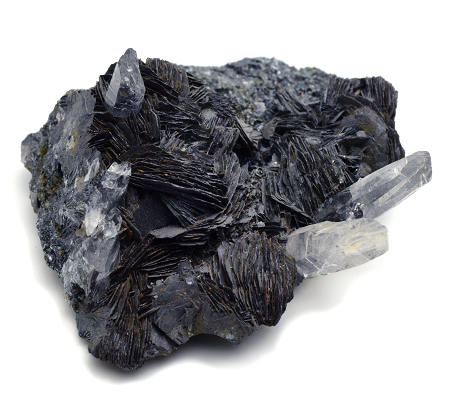 Iron Rose has the meaning and properties to maintain youthfulness. It is a gemstone symbolizing "a never-wilting Rose". It is popular as a charm to keep stamina. It is recommended to those who aim for active lifetime.
---
Iron Rose has the meaning and properties to lead the fight to victory. It is a gemstone to give "fighting spirit" and "energy" necessary for victory. Iron Rose, that turns red when it is ground, symbolizes "blood" and "flame". It has been useful as a jewel to strengthen life energy. It is also used when you want unbeatable strength.
---
Iron Rose has the meaning and properties of amulet against evils. It is a gemstone to make the image of "a solid robust Iron Rose" as the name. It protects you from every attack. It will prevent from being hurt and decayed by a battle. It is also recommended when you want to maintain the best condition.
---
Iron Rose is a kind of gemstone called "Hematite". Raw stone of Hematite may become petal-like shape. Some beautiful products look like sculptures of roses. It is a natural art with no human hands added. Raw stone of Hematite is most likely to be grape shape type. Rose-like Hematite has a small amount of distribution. The power obtained from Iron Rose is almost the same as Hematite.
---
Iron Rose has "single type" and "type combined with Quartz". When you simply want to enjoy this gemstone, please look for the single type. The type combined with Quartz increases artistic beauty. It looks like "a rose grown by sacred water". Which you choose depends on your preference.
---
The distribution volume of Iron Rose is small. It won't be sold at most gemstone shops. If you need it, please find gemstone shops that are strong in raw stones and mineral specimens. The price changes greatly depending on the beauty of the crystal. If it is a low quality type, it is in a price range that you can easily purchase. High quality type is expensive, so please prepare a large budget.
---
Iron Rose has the meaning and properties to grasp chances without missing. It is a gemstone to make intuitively sense good energy. It will help to improve the flow of luck. It steadily leads to the way of good fortune.
---
Iron Rose has the meaning and properties to arrange disturbed feelings. It is a gemstone to regain "coolness" and "calmness". It is useful when you need to reorganize the position. It will also avoid being attacked weaknesses.
Chakra Chart of Iron Rose
9th Heaven Chakra
[God]

Silver Iron Rose
[Cloud] Application

7th Crown Chakra
[Soul]

6th Third Eye Chakra
[Wisdom]

5th Throat Chakra
[Voice]

4th Heart Chakra
[Love]

3rd Solar Plexus Chakra
[Light]

2nd Sacral Chakra
[Guts]

1st Root Chakra
[Life]

Black Iron Rose
[Person] Will Power
Author Hayasaka Yoshino

Hayasaka Yoshino is a stone healer that usually works in Tokyo area, Japan. Yoshino is also famous as a fortune teller and seen over 10,000 people. "Fortune-telling counseling", which finds out the best gemstone for the client, received a high reputation. Representative director of LWE Co., Ltd.
Other Gemstone Recommendation