Watermelon Tourmaline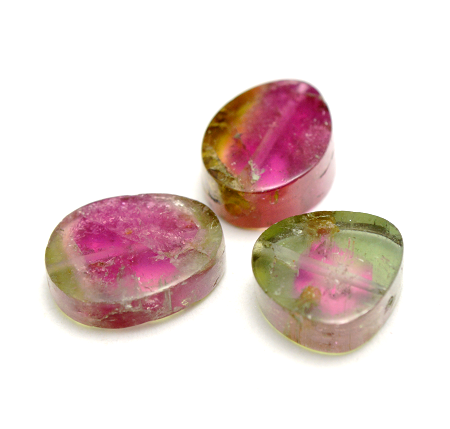 Love and Relationships

[1]

Draw out charm


[2]

Grasp the best sense of distance


[3]

Solve the problem of romance


[4]

Heal traumas of the past


[5]

Activate love energy

Money and Business

[1]

Pull out the original power


[2]

Clear consciousness


[3]

Flash on an idea


[4]

Improvement in the realization of power


[5]

Support problem solving

Other Energy

[1]

Heal the mind and body


[2]

Balance the mind


[3]

Make a positive feeling


[4]

Gain spiritual strength


[5]

Feel the energy of the Earth

Watermelon Tourmaline is a gemstone that can strengthen owner's mind. It has been told that it has a meaning and properties to solve problems in your mind. This gemstone is used when you want to clear your anxiety or stress. Watermelon Tourmaline can bring you back to a good condition from distorted feelings. It is useful when you want to balance your mind and feelings.
---
Watermelon Tourmaline would vitalize the energy around your heart, which is the place where your soul is. The soul is a symbol of balance since it is in the center of the human body. You will be able to have feminine energy and mannish energy equally. Watermelon Tourmaline has a good balance of yin-yang, so it would prevent your energy to be biased. When your feelings go out of control, it would heal your energy gently. It would give you positive vitality when your heart is full of sadness.
---
Watermelon Tourmaline works both physically and mentally. It is a great gemstone that can get many meanings and effects. Even if you have a fantastic idea, it won't come out to the world if you don't have the power to turn it into reality. On the other hand, even if you have the ability to take action, it won't get popular without a sense of love. Watermelon Tourmaline is a gemstone that can support all the creative work from an idea to actualization. Please try this gemstone if you want both of the energy equally.
---
Watermelon Tourmaline is a gemstone that belongs in Tourmaline group. There are many kinds of colors such as blue, green, yellow, and pink. The meanings and effects differ by its color, so please choose the one you prefer. Watermelon Tourmaline is a special kind of Tourmaline that has green and pink together. It is called watermelon color because the combination of those two colors looks like a watermelon.
---
The price is much more expensive than regular Tourmaline. It is very popular among collectors since it is very rare. Even if you think you want it in spite of its price, it will be pretty difficult to get one. You will need a lot of budgets and patience to get Watermelon Tourmaline. If you find your favorite gemstone, then you are really lucky. There is no same pattern in the world because it is a natural gemstone. It would definitely be one of your greatest gemstone throughout your whole life.
---
Watermelon Tourmaline is known for its power to get unified with the energy of the earth. It also has a meaning and properties related to healing. Since humans are a kind of animals, we sometimes need the energy of the nature. Watermelon Tourmaline has a spirit of the nature inside, and it has been valued from the old days. If you need some healing power or troubled with the stress in city life, please try the meanings and effects of Watermelon Tourmaline.
Chakra Chart of Watermelon Tourmaline
9th Heaven Chakra
[God]

8th Air Chakra
[Cloud]

7th Crown Chakra
[Soul]

6th Third Eye Chakra
[Wisdom]

5th Throat Chakra
[Voice]

Watermelon Tourmaline
[Love] Tolerance

3rd Solar Plexus Chakra
[Light]

2nd Sacral Chakra
[Guts]

Watermelon Tourmaline
[Beauty] attractiveness

0th Earth Chakra
[Person]
Watermelon Tourmaline Data
Chemical formula
AB3C6[X3Y | (BO3)3 | Si6 O18
Mohs scale
7-7.5
Specific gravity
3.03-3.31
Production
Brazil
United States
Tanzania
Author Hayasaka Yoshino

Hayasaka Yoshino is a stone healer that usually works in Tokyo area, Japan. Yoshino is also famous as a fortune teller and seen over 10,000 people. "Fortune-telling counseling", which finds out the best gemstone for the client, received a high reputation. Representative director of LWE Co., Ltd.
Other Gemstone Recommendation