White Opal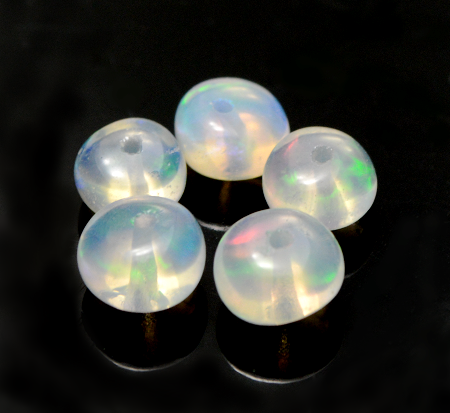 Love and Relationships

[1]

Make a calm relationship


[2]

Attract an ideal partner


[3]

Improvement of charm


[4]

Advance the relationship between two people


[5]

Regain moisture

Money and Business

[1]

Grab hope


[2]

Attract job opportunities


[3]

Accepted in the surroundings


[4]

Clarify thinking


[5]

Enrich funds

Other Energy

[1]

Improve luck


[2]

Emotionally stable


[3]

Regain original brightness


[4]

Facilitate communication


[5]

Prevention of flood damage

White Opal is a gemstone that has a meaning and properties of making your feelings clear. From ancient times, it has been believed for its power to heal disordered energy. Please use it when you want to calm down ups and downs of your feelings. White Opal is also good for improving unstable luck flow. It would change negative energy into positive energy.
---
White Opal has a meaning and properties of bringing in good luck or chances. It has been valued as a gemstone with divine protection of gods and angels from the old days. This gemstone would lead the owner where to head for. White Opal is also useful when you want an outcome. It would support the owner to make dreams or wishes come true. This gemstone is a good one to create a bright future.
---
White Opal is a gemstone that has some water inside. It has been believed that it has sacred energy of water in it. In wu-xing that represents 5 kinds of power which are fire, water, wood, metal, and earth, this gemstone is used when the power of water is the most important. White Opal is a gemstone that is valued by people who have work related to water. From ancient times, it has been worn as a good luck charm to prevent accidents of water. People such as fishers, divers, Waterworks Bureau workers, cooks, and birthing assistants are lovers of this gemstone.
---
White Opal has a meaning and properties of increasing the energy of love. The energy of water would moisten your dry heart. It is a good gemstone to use when you want to get rid of loneliness or anxiety. White Opal also has a meaning and properties of making communication smoother. It has been believed for its power to make smooth communication just like flowing water. Please use it to increase love luck or improve human relationships.
---
The name of White Opal changes by how it shines. The ones that have rainbow shine inside are called "Precious Opal." Others without rainbow shine are called "Common Opal" and they are treated differently. The meanings and effects changes slightly by its shine, so please choose the one you need. Other than White Opal, there are yellow, pink, blue, and black colors. Some people collect each color since it has wide range of color variation.
---
White Opal with rainbow shine has a meaning of harmony and increasing charm additionally. The rainbow ones are generally more powerful, so the value will increase compared to the ones that don't. You will need bigger budgets if you want one. White Opal is usually sold in bracelets, necklaces, or earrings. Please choose the design that is the easiest for you to wear.
Chakra Chart of White Opal
White Opal
[God] Creativity

8th Air Chakra
[Cloud]

7th Crown Chakra
[Soul]

6th Third Eye Chakra
[Wisdom]

5th Throat Chakra
[Voice]

4th Heart Chakra
[Love]

3rd Solar Plexus Chakra
[Light]

2nd Sacral Chakra
[Guts]

1st Root Chakra
[Life]

0th Earth Chakra
[Person]
White Opal Data
Chemical formula
SiO2 nH2O
Mohs scale
5.5-6.5
Specific gravity
1.99-2.25
Production
Australia
Mexico
Slovak Republic
Combination
Author Hayasaka Yoshino

Hayasaka Yoshino is a stone healer that usually works in Tokyo area, Japan. Yoshino is also famous as a fortune teller and seen over 10,000 people. "Fortune-telling counseling", which finds out the best gemstone for the client, received a high reputation. Representative director of LWE Co., Ltd.
Other Gemstone Recommendation