Red Quartz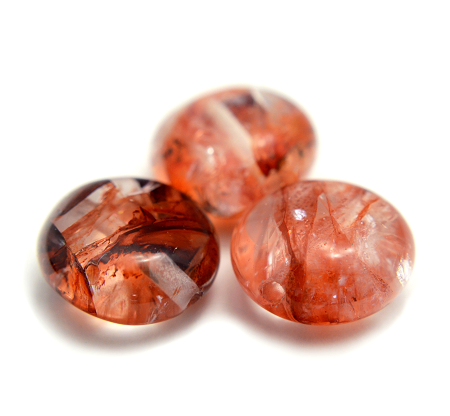 Love and Relationships

[1]

Passionate romance


[2]

Win a rival


[3]

Tie a bond


[4]

Resurrect love


[5]

Amulet for babies

Money and Business

[1]

Achievement of desire


[2]

Give courage


[3]

Take an opportunity


[4]

Pull out talent


[5]

Increase your ability to act

Other Energy

[1]

Become down to earth


[2]

Adjust energy balance


[3]

Prevent from being influenced by evil energy


[4]

Gain energetic power


[5]

Talisman against evil

Red Garden Quartz has meaning and prosperities to strengthen thinking power. It has been believed to make the prospect of the future concrete. It is said that success is promised by examining several moves ahead. It is effective also when you want to simulate the possibility of success.
---
Red Garden Quartz is a gemstone that has meaning and prosperities to read the heart of others. It is said that you'll be able to see how to contact others by sensing their real intentions and feelings. It is a guardian gemstone that is the best suited for improving communication skills. Please also use it for improvement of love luck and home luck.
---
Red Garden Quartz has been said to have the power to enhance human intuition. It is the gemstone to be said to enable us to sense invisible energy. If you know the flow of good luck, you will switch to a chance. If you feel a crisis of yourself, it'll let you avoid it quickly.
---
Red Garden Quartz has a meaning and prosperities to heal the owner's energy. It has been believed that it gently wraps the wound and stress that the owner held. It is also known as a love stone to clear desolation and loneliness. Red Garden Quartz will give vitality to live tomorrow. Let the owner take a positive heart back.
---
Garden Quartz has several color variations. The type of green or brown is the most famous. Red Garden Quartz is rare and not very distributed. It is known as a Garden Quartz with special meaning and prosperities. Because it is a gemstone not to find easily, please search with patience if necessary.
---
Garden Quartz is also called "Garden Crystal" in another name. It is charming with unique atmosphere like trapping nature inside. The inside of the Red Garden Quartz looks as if the trees and grasses turn red. Since the patterns of every one are different, there are many people to collect them. If you find a favorite, it will become only one family treasure in the world.
---
Red Garden Quartz is a gemstone that has a meaning and prosperities to calm the mind. It is useful for when you want concentration. Reducing mistakes will ease stress. Red Garden Quartz is also popular as a guardian stone to support meditation. It accesses to the heart deeply and help you to fulfillment of desire.
---
Red Garden Quartz is a gemstone that leads the owner's life to prosperity. Natural energy living inside will greatly grow the owner. It is said that light and nutrients are being accumulated to nurture owners. Please use it when you want energy to make your dream come true.
Chakra Chart of Red Quartz
9th Heaven Chakra
[God]

8th Air Chakra
[Cloud]

7th Crown Chakra
[Soul]

6th Third Eye Chakra
[Wisdom]

5th Throat Chakra
[Voice]

4th Heart Chakra
[Love]

3rd Solar Plexus Chakra
[Light]

2nd Sacral Chakra
[Guts]

Red Quartz
[Life] Life Energy

0th Earth Chakra
[Person]
Combination

+ Citrine
Grab opportunities and don't let them get away
Author Hayasaka Yoshino

Hayasaka Yoshino is a stone healer that usually works in Tokyo area, Japan. Yoshino is also famous as a fortune teller and seen over 10,000 people. "Fortune-telling counseling", which finds out the best gemstone for the client, received a high reputation. Representative director of LWE Co., Ltd.
Other Gemstone Recommendation