Red Spinel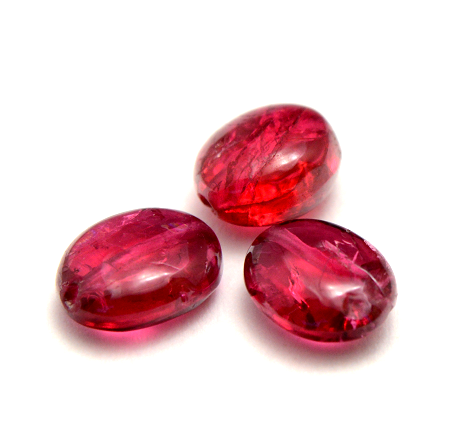 Love and Relationships

[1]

Fulfillment of love


[2]

Draw out charm


[3]

Positive love affair


[4]

Increase aggressiveness


[5]

Support for restoration

Money and Business

[1]

Pull out potentiality and personality


[2]

See your efforts bear fruit


[3]

Receive the correct evaluation


[4]

Enhance energy


[5]

Light a fire in your heart

Other Energy

[1]

Increase self-esteem


[2]

Increase expressiveness


[3]

Strengthen the will


[4]

Become positive


[5]

Upgrade life force

Red Spinel is a gemstone that can make owner's energy positive. It has very bright and positive meanings and effects. Red Spinel is known as a gemstone that works on things and the body more than the mind. It would help you on actual actions.
---
Red Spinel has a meaning and properties of giving results to the owner's efforts. It is a gemstone that can let you receive the right evaluation for your hard work. It would affect all the things you have been working on. This gemstone is good to use when you couldn't get the results you wanted or you just had a bad luck because of the environment.
---
Red Spinel can vitalize owner's potential energy. It especially increases the energy level of action and expression. This gemstone is usually used to increase business luck or money luck. It would fill up the energy to get wealth. Please use the power of Red Spinel if you want to prosper things more.
---
Another name of Red Spinel is "a gemstone of eternal life." The bright shine of it looks like a phoenix. It would give owner the power and the energy to revive. This gemstone is useful when you want to have more energy or have a chance to resume things. It would give you positive and bright power. It is also good to use when you want to get rid of your stress or negative feelings.
---
Red Spinel is known as a gemstone that symbolizes flame. It has bright and positive meanings and effects because it has the energy of flame. Just like putting in firewood in the fireplace, you would be able to have vigorous and ambitious power. It is also good for people who work with fire. Red Spinel will be a good gemstone for firefighters or cooks. People who usually choose red without thinking or people who have relationship with flame are also good to have one.
---
The ore of Red Spinel has a sharp shape. Therefore, Red Spinel has a meaning and properties of enhancing individuality or strong will. We usually get tired when we try to do different things or new things. Red Spinel would help you in those kinds of situations. Please use it to increase your energy or stamina.
---
Red Spinel is often confused with Ruby. They are both red and hard gemstones, so they were considered as a same type before. Nowadays, discrimination technology has improved and they are categorized differently. Please be careful when you choose because the meanings and the effects of Red Spinel and Ruby are different. However, they are both beautiful and have great power inside.
Chakra Chart of Red Spinel
9th Heaven Chakra
[God]

8th Air Chakra
[Cloud]

7th Crown Chakra
[Soul]

6th Third Eye Chakra
[Wisdom]

5th Throat Chakra
[Voice]

4th Heart Chakra
[Love]

3rd Solar Plexus Chakra
[Light]

2nd Sacral Chakra
[Guts]

Red Spinel
[Life] Life Energy

0th Earth Chakra
[Person]
Author Hayasaka Yoshino

Hayasaka Yoshino is a stone healer that usually works in Tokyo area, Japan. Yoshino is also famous as a fortune teller and seen over 10,000 people. "Fortune-telling counseling", which finds out the best gemstone for the client, received a high reputation. Representative director of LWE Co., Ltd.
Other Gemstone Recommendation