Lithium Quartz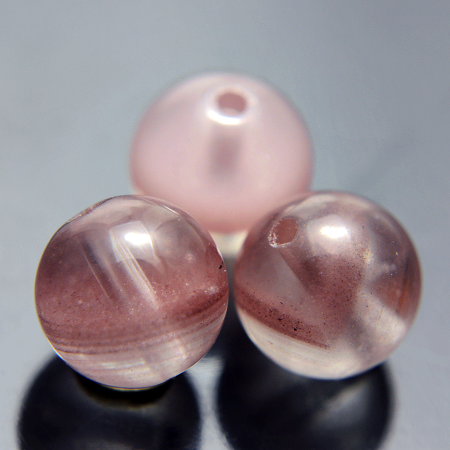 Love and Relationships

[1]

Find true love


[2]

Strengthen ties


[3]

Draw out hidden charm


[4]

Help relationship recovery


[5]

Behave to another naturally

Money and Business

[1]

Draw out talent or ability


[2]

Early problem resolution


[3]

Make full use of your abilities


[4]

Surmount adversity


[5]

Identify the essence of things

Other Energy

[1]

Raise mental level


[2]

Soften stress


[3]

Flowering of Potential Abilities


[4]

Balance of body and mind


[5]

Rejuvenate

Lithium Quartz has a meaning and properties of reducing stress. It can release nervousness and anxiety from your mind. This gemstone is used when you feel like your energy is kept inside you. You would be able to give a try to things more by having fewer burdens on your mind.
---
Lithium Quartz has a meaning and properties of increasing owner's mental level. It can stimulate spiritual enlightenment. This is a good gemstone if you want to understand things deeply. It would lead you to a stage where not many people can reach. If you are interested in a spiritual world, please try the meaning and properties of Lithium Quartz.
---
Lithium Quartz has both Yin and Yang energy inside. It is a gemstone with tender healing energy and strong positive energy. Lithium Quartz would give you the power depending on the situation. It is a great lucky charm that can be used for both offense and defense.
---
Lithium Quartz has a meaning and properties of bringing out owner's potential. This gemstone would awaken talents and skills that are not used yet. Lithium Quartz can release the feeling of not doing things fully. It would enrich your life more by using all your power properly.
---
As you can see from the name, Lithium Quartz is a kind of Quartz with a lithium component inside. The color varies by its quality from light pink to deep reddish-brown. High-quality ones have high transparency and beautiful color. There are not many in the market because Lithium Quartz is a rare gemstone. It will be more expensive than common gemstones, so please check the market price if you need one. High-quality ones will be even more expensive.
---
Some of the Lithium Quartz has a mountain-shaped pattern in it. This is called "Lithium Phantom Quartz" and it is very rare. Many gemstones fans are fond of it because it is known for its special meanings and effects. This unique mountain shape has been believed for the power to overcome difficulties. It would centralize all the powerful energy in Lithium Quartz to one spot. Lithium Phantom Quartz is a good amulet for solving problems quickly.
---
Lithium Quartz is a gemstone with a meaning and properties of recovering weak part. It would sense hurt part and bring back to the original condition. This gemstone is useful when you want to cheer yourself up. Please use it when you feel like your heart is a little tired.
Chakra Chart of Lithium Quartz
9th Heaven Chakra
[God]

8th Air Chakra
[Cloud]

7th Crown Chakra
[Soul]

6th Third Eye Chakra
[Wisdom]

5th Throat Chakra
[Voice]

4th Heart Chakra
[Love]

3rd Solar Plexus Chakra
[Light]

2nd Sacral Chakra
[Guts]

Lithium Quartz
[Life] Life Energy

0th Earth Chakra
[Person]
Combination

+ Quartz
Know the purpose of life
Author Hayasaka Yoshino

Hayasaka Yoshino is a stone healer that usually works in Tokyo area, Japan. Yoshino is also famous as a fortune teller and seen over 10,000 people. "Fortune-telling counseling", which finds out the best gemstone for the client, received a high reputation. Representative director of LWE Co., Ltd.
Other Gemstone Recommendation