Mandarin Garnet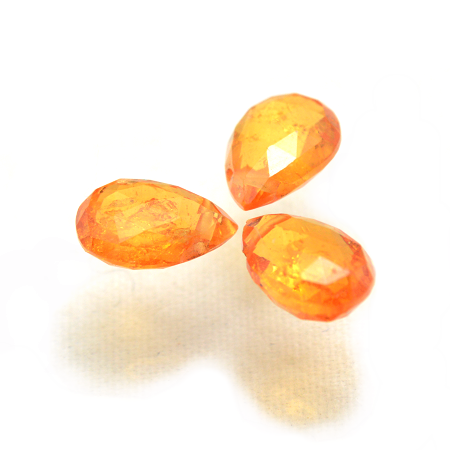 Love and Relationships

[1]

Become loved by each other


[2]

Develop a relationship


[3]

Develop affection


[4]

Increase the owner's charm


[5]

Find a person who you have a connection with

Money and Business

[1]

Challenge a new job


[2]

Enrich ideas


[3]

Increase aggressiveness


[4]

Increase execution power


[5]

Grab the opportunity

Other Energy

[1]

Activate the energy


[2]

Regain brightness


[3]

Pull out potential attractiveness


[4]

Lead to the direction to go


[5]

Amulet for trips

Mandarin Garnet is a gemstone that can vitalize life energy. It has a meaning and properties of bringing back owner's original power. You would be able to have the energy to open up your future. It is also useful when you want to get rid of anxiety or worries for the future. This gemstone is good to use when you want courage to try new things or wipe out fear of failure.
---
Mandarin Garnet has a meaning and properties of making your mind free. Please try using it when you want to reduce burden on your mind or when you have too much responsibility. Mandarin Garnet is also used when you want to have free imagination. It is good for people who want to create epoch-making ideas or service. Mandarin Garnet has creative energy inside. It is useful when you want to create things actively.
---
Mandarin Garnet is a gemstone that can increase owner's self-confidence. It would let you enjoy your actions. This gemstone would make you feel bright and positive. Mandarin Garnet also has a meaning and properties of making the owner more charming. The positive energy inside would let the owner shine. It would make your thoughts positive and make you attract many people.
---
Mandarin Garnet is a very valuable gemstone. Although it has great meanings and effects, it would be really difficult to find one. Please look for it patiently if you need one. It is more expensive compared to other colors of Garnet. Mandarin Garnet is usually sold in jewelry shops. Please make sure to buy the one within the market price.
---
The history of Garnet is very long and there are many meanings and effects handed down. It has been told that Garnet was used for the lantern of Noah's Ark. For this reason, it has been considered as a gemstone that guides travelers. Mandarin Garnet would lead you to the bright way in life. It is good to use when you want to grab a chance for success or when you want to give a try at a new place.
---
Garnet is well known as a birthstone of January. Mandarin Garnet can be also used as a birthstone. If you want to wear something different from ordinary red Garnet, Mandarin Garnet is a nice one to have. Of course, people who are not born in January can have the same meanings and effects. The solidity of Garnet is very high and the shine lasts very long. It is a gemstone that has many fans all over the world. This is recommended for people who are collecting many colors of Garnet.
Chakra Chart of Mandarin Garnet
9th Heaven Chakra
[God]

8th Air Chakra
[Cloud]

7th Crown Chakra
[Soul]

6th Third Eye Chakra
[Wisdom]

5th Throat Chakra
[Voice]

4th Heart Chakra
[Love]

3rd Solar Plexus Chakra
[Light]

Mandarin Garnet
[Guts] Persistence

1st Root Chakra
[Life]

0th Earth Chakra
[Person]
Author Hayasaka Yoshino

Hayasaka Yoshino is a stone healer that usually works in Tokyo area, Japan. Yoshino is also famous as a fortune teller and seen over 10,000 people. "Fortune-telling counseling", which finds out the best gemstone for the client, received a high reputation. Representative director of LWE Co., Ltd.
Other Gemstone Recommendation