Chrysoberyl Cat's Eye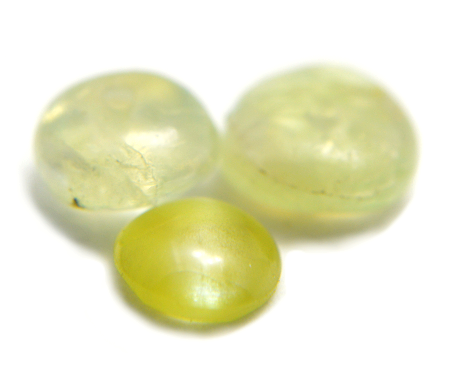 Love and Relationships

[1]

Do not miss the chance of romance


[2]

Read other's minds


[3]

Prevent from growing apart


[4]

Increase self-esteem


[5]

Cherish each other

Money and Business

[1]

Improve career advancement


[2]

Boost the plan


[3]

Get a good subordinate


[4]

Expand business


[5]

Decrease mistakes

Other Energy

[1]

Make use of coincidence


[2]

Talisman against evil


[3]

Establish your intentions


[4]

Surmount adversity


[5]

Foresee the future correctly

Chrysoberyl Cat's Eye is a gemstone with a meaning and properties of bringing in good luck. The light energy inside would brighten up your life. It is good to use when you want to feel brighter. By making yourself feel positive, you can be luckier and luckier.
---
Chrysoberyl Cat's Eye has a meaning and properties of making your mind generous. By letting malicious stuff go out from your mind, you would be able to accept things better than before. It would be useful to widen the capacity of your mind. This gemstone is also good for preventing miss-matching with your partner, or preventing explosion of feelings.
---
Chrysoberyl Cat's Eye is known for increasing self-affirmation. It would give you self-confidence to live through your life. This gemstone is effective when you want to see yourself correctly. You can find your way to go by knowing what you really want that is deep inside your mind. It is a gemstone that makes your future what you really dream of.
---
When you light up Chrysoberyl Cat's Eye, you will see a cat-eye-like shine. This shine is considered to have the power to look out the future. It has been used to predict the future and do clairvoyance from ancient times. This gemstone is useful to grab a chance or avoid danger beforehand. It is also good for proceeding plans as scheduled.
---
If there is no cat's-eye-shine, it is a regular Chrysoberyl. It usually has yellow to greenish color. Ones with beautiful color and high transparency are handled as jewelry. They are more expensive than ordinary gemstones, so you will need bigger budgets to get one. Since it is a rare gemstone, only few stores have it. Please look for competent specialty stores if you need one.
---
Chrysoberyl Cat's Eye is a gemstone with a meaning and properties of a talisman. The energy of light would purify negative energy. It is a good gemstone to use when you want to get out from being depressed. Please use it when you want to change your luck flow. You would be able to overcome the difficulty and have hope in yourself.
---
Chrysoberyl Cat's Eye has a meaning and properties of hardening owner's resolutions. It can give you the power to do things until you finish. This gemstone was loved by successive royal families and successful people. Chrysoberyl Cat's Eye is a great gemstone that has both good performance and beauty. It would also give you the ability to be a leader and a big capacity. Please use it when you want to get a promotion or expand your business.
Chakra Chart of Chrysoberyl Cat's Eye
9th Heaven Chakra
[God]

8th Air Chakra
[Cloud]

7th Crown Chakra
[Soul]

6th Third Eye Chakra
[Wisdom]

5th Throat Chakra
[Voice]

Green Chrysoberyl
[Love] Tolerance

Yellow Chrysoberyl
[Light] Productivity

2nd Sacral Chakra
[Guts]

1st Root Chakra
[Life]

0th Earth Chakra
[Person]
Author Hayasaka Yoshino

Hayasaka Yoshino is a stone healer that usually works in Tokyo area, Japan. Yoshino is also famous as a fortune teller and seen over 10,000 people. "Fortune-telling counseling", which finds out the best gemstone for the client, received a high reputation. Representative director of LWE Co., Ltd.
Other Gemstone Recommendation