Orange Moonstone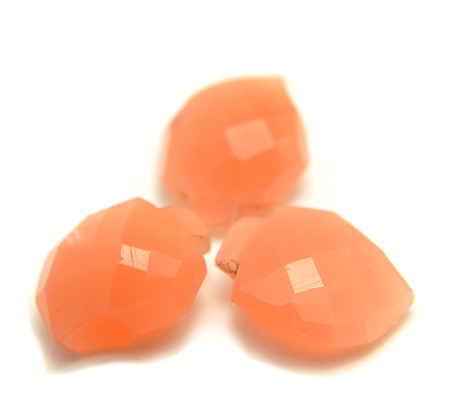 Love and Relationships

[1]

Get a sense of unity


[2]

Increase support capacity


[3]

Detect the feelings of other


[4]

Increase expansively


[5]

Gain cooperation from others

Money and Business

[1]

Improve intuition


[2]

Improve the flow of luck


[3]

Sharpen the sensibility


[4]

Overcome pressures


[5]

Find a place where you can be yourself

Other Energy

[1]

Heal your heart


[2]

Relieve anxiety


[3]

Talisman against evil


[4]

Understand the truth


[5]

Survive the crisis

Orange Moonstone is a gemstone with meaning and properties of healing people's heart. It is known as a gemstone that can relieve anxiety or stress. From ancient times, people have believed that the goddess of moon will give them power. Orange Moonstone is a gemstone with great healing power. It would gently support your hurt feelings and mind.
---
Orange Moonstone has been known for its power that can balance emotion well. It has meaning and properties to reduce anxiety or pressure. You would be able to be more flexible by having more room in your mind. It is good to use when you want to have generosity to accept other's thinking or new information. It would organize your energy cycle and brings you back to the normal state. This gemstone is also good for people who want elegant and mature aura.
---
Orange Moonstone has meaning and properties to make the flow of luck calmer. Just like the moon goes around in a certain period, it would adjust the flow of things. Orange Moonstone is a gemstone that can let you get away from danger smoothly. It is good for people who would like to do something for a bad luck year, or an amulet for traveling. If you want to enhance the talisman effect, please wear it as an accessory. Necklaces, bracelets, and earrings are the popular ones.
---
Orange Moonstone is a gemstone that symbolizes moon, just as its name says. From old times, moon was considered to be a symbol of mind and unconsciousness. Orange Moonstone has meaning and properties of enhancing its owner's intuition. This gemstone can sense invisible energy and other people's feelings. You would be able to feel better by sensing and understanding them. It is useful when you want to get a better inspiration or make your sensitivity sharper.
---
There are several kinds of colors for Moonstone. Each of them has different meanings and properties, so please choose the one that fits your situation. White Moonstone is the most famous and there are other colors such as yellow, orange, and black. Orange Moonstone is a gemstone that is rare in the market. Only limited number of stores have it, so please make sure to check their stock in advance. It is fairly common even if they don't have one. It might be better just to order. You are very lucky if you could find a store that has Orange Moonstone. If it is in a good quality, it would be more expensive than regular Moonstone. Please check the market price and consider with your budgets, too.
Chakra Chart of Orange Moonstone
9th Heaven Chakra
[God]

8th Air Chakra
[Cloud]

7th Crown Chakra
[Soul]

6th Third Eye Chakra
[Wisdom]

5th Throat Chakra
[Voice]

4th Heart Chakra
[Love]

3rd Solar Plexus Chakra
[Light]

Orange Moonstone
[Guts] Persistence

1st Root Chakra
[Life]

0th Earth Chakra
[Person]
Combination

+ Citrine
Fulfill the efforts made until now
Author Hayasaka Yoshino

Hayasaka Yoshino is a stone healer that usually works in Tokyo area, Japan. Yoshino is also famous as a fortune teller and seen over 10,000 people. "Fortune-telling counseling", which finds out the best gemstone for the client, received a high reputation. Representative director of LWE Co., Ltd.
Other Gemstone Recommendation