Lepidocrocite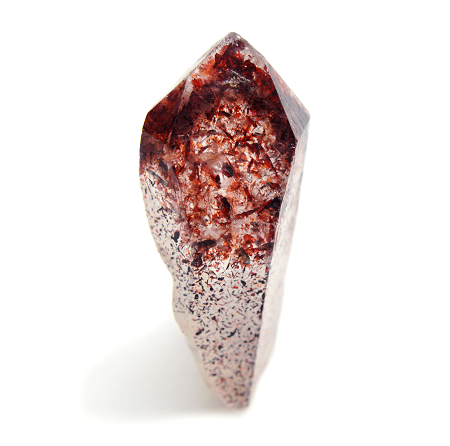 Lepidocrocite has meaning and properties of improving its owner's decision-making skill. This gemstone can determinate clear YES or NO. It will be useful to find out an answer. It would be valuable if you need to make cool-headed decisions.
---
Lepidocrocite has meaning and properties that can increase energy of love. This gemstone can warm cold heart. You would be able to get back the feeling to love people. It can reduce the drive to destroy from loneliness or destructive thoughts. Please use it as a healing gemstone to heal your mind.
---
Lepidocrocite is a gemstone that can improve communication skills. It is useful to read people's feelings accurately. It is also called "the gemstone of telepathy" and it is pretty popular. This gemstone will help you a lot when you want to know true feelings that can't be known from words. It is good to use when you want to tell your feelings properly.
---
Lepidocrocite is mostly mixed with other gemstones. Listed below are some gemstones that contain Lepidocrocite.
- Fire Quartz
- Strawberry Quartz
- Sunstone
are the well-known ones.
You can have meanings and properties of Lepidocrocite using any of them. Please choose the one you like.
---
Lepidocrocite has red to orange color. It shines beautifully when it is exposed to light. Gemstones that contain Lepidocrocite are usually expensive. There are bracelets, necklaces, and earrings, so please choose the type you like.
---
Lepidocrocite has meaning and properties that protects you from negative energy. The red shine is a symbol of flame, and it can get rid of negative energy. It can be used to hide your weak point. This gemstone would burn all the evil spirits with holy flame.
---
Lepidocrocite has meaning and properties that make your feelings brighter. It is popular as a gemstone with the energy of light. It would help you see things positively and let you make a bright future. Lepidocrocite is also useful to make your thinking clear. When an answer is thought out for a very long time, it is mostly not the best answer. This gemstone will help you find out a simple and clear answer.
---
Lepidocrocite is a gemstone that can give its owner courage. It would reduce the sense of fear and give you the power to go forward. This gemstone is also useful when you want to carry through your belief to the end. It will help you accomplish your mission and lead you to success.
Chakra Chart of Lepidocrocite
9th Heaven Chakra
[God]

8th Air Chakra
[Cloud]

7th Crown Chakra
[Soul]

6th Third Eye Chakra
[Wisdom]

5th Throat Chakra
[Voice]

4th Heart Chakra
[Love]

3rd Solar Plexus Chakra
[Light]

Orange Lepidocrocite
[Guts] Persistence

Red Lepidocrocite
[Life] Life Energy

Black Lepidocrocite
[Person] Will Power
Author Hayasaka Yoshino

Hayasaka Yoshino is a stone healer that usually works in Tokyo area, Japan. Yoshino is also famous as a fortune teller and seen over 10,000 people. "Fortune-telling counseling", which finds out the best gemstone for the client, received a high reputation. Representative director of LWE Co., Ltd.
Other Gemstone Recommendation