Purple Tiger Eye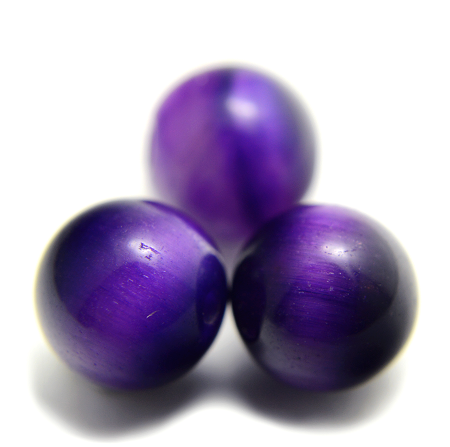 Purple Tiger Eye has the meaning and properties to grasp the opportunity without missing. As the name suggests, it is a gemstone that enhances the power of the "eye". It makes it easy to capture invisible energy and flow of fortune. It will make it easier to acquire more luck.
---
Purple Tiger Eye has the meaning and properties of brightening your heart. It is popular as a gemstone to remove the darkness of the mind. It is also used for overcoming fear and anxiety. Purple Tiger Eye is a gemstone to acquire mental strength. It will give courage and confidence to the owner. It is also recommended for those who need a strong will to achieve the purpose.
---
Purple Tiger Eye is a gemstone to solve energy shortage. It is used for the purpose of pouring energy to weakened parts. You will gain vitality to start moving again. Purple Tiger Eye also has meaning and properties to inform the owner of the danger. By avoiding crisis in advance, energy will be preserved. It is also popular as a talisman that prevents retirement on the way.
---
Tiger Eye is the most famous type of yellow. Purple Tiger Eye is produced by dyeing. Purple elements will be added to the power of Tiger Eye. Purple is famous as a color that enhances "mental power", "intuition", "balance sensation". It is useful for purple color lover.
---
To obtain Purple Tiger Eye, you need to find a shop is good at Tiger Eye. Shops that have all the colors of Tiger Eye are rare. Shop owners selling Purple Tiger Eye will like Tiger Eye. Please find your specialty store with patience. Tiger Eye of "yellow", "red" and "blue" is comparatively easy to get. If you cannot find a purple, you may want to try common Tiger Eyes. You can obtain the power of the basic Tiger Eye.
---
Purple Tiger Eye has meaning and properties to match the direction of the mind and body.
'I want to succeed, but because responsibility becomes heavy, I will not move.'
'I want to be happy, but I am afraid to collapse such happiness so I will not move.'
'Although I really like it, I cannot be honest and will say the opposite.'
It is a gemstone to eliminate these discrepancies. By facing the mind and body properly, it will produce great results.
---
Purple Tiger Eye has the meaning and properties of achieving the goal surely. Like the "tiger", it is a gemstone to go straight to the target. It can be applied to various purposes, such as when you want achievements at work, when you want to shoot someone in mind. It will also give you the power to succeed in a one-man play. It is a gemstone that is highly supported from people working as freelance.
Chakra Chart of Purple Tiger Eye
9th Heaven Chakra
[God]

8th Air Chakra
[Cloud]

Purple Tiger Eye
[Soul] Intuition

6th Third Eye Chakra
[Wisdom]

5th Throat Chakra
[Voice]

4th Heart Chakra
[Love]

3rd Solar Plexus Chakra
[Light]

2nd Sacral Chakra
[Guts]

1st Root Chakra
[Life]

0th Earth Chakra
[Person]
Author Hayasaka Yoshino

Hayasaka Yoshino is a stone healer that usually works in Tokyo area, Japan. Yoshino is also famous as a fortune teller and seen over 10,000 people. "Fortune-telling counseling", which finds out the best gemstone for the client, received a high reputation. Representative director of LWE Co., Ltd.
Other Gemstone Recommendation