Blue Sapphire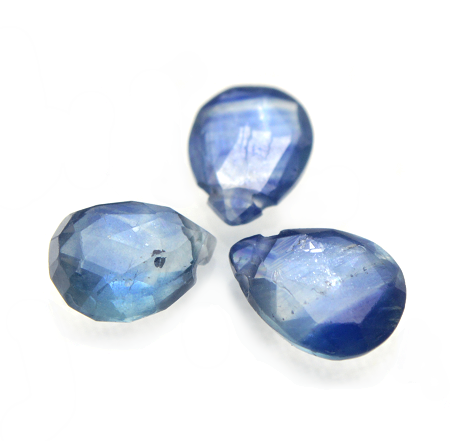 Blue Sapphire has meaning and properties of improving learning ability. From ancient times, it has been considered as a gemstone of wisdom. It can support all skills: knowing, remembering, doing, and applying. This gemstone would give you power until you make a big achievement.
---
Blue Sapphire has meaning and properties of enhancing its owner's insight. It can let you see through the future like a prophecy. This gemstone will avoid danger and grab a chance at the same time. It is a great gemstone that has been favored by successful people in the history. It would show you a way to success.
---
Blue Sapphire has meaning and properties of keeping yourself calm. It will be useful when you need to calm yourself down. This gemstone would prevent you from making emotional and hasty mistakes over and over. It will help you build an ideal life plan.
---
Sapphire is a gemstone with a lot of color variation. Blue Sapphire is the most famous one. Many people think Sapphire is blue. However, there are many other colors such as purple, green, yellow, orange, pink, black, and clear. The quantity in the market and the value differ a lot on its color, so Blue Sapphire is a good standard one to start with. If you feel you have a good match with Sapphire, then please try other colors, too. You can enjoy the small changes of power depending on its color.
---
Blue Sapphire is a very popular gemstone. Most gemstone shops and jewelry shops sell it. It should not be so difficult to find one. The ones with beautiful color and high transparency are sold in high price. On the other hand, a little blackish and dull Blue Sapphire is available in a reasonable price. There are also some artificial Sapphire that are cheap but beautiful. Artificial Sapphire don't have natural gemstone power, so please be careful. If you want natural and high-quality Blue Sapphire, you will need bigger budgets.
---
Blue Sapphire has meaning and properties of good encounter. It is also popular for engagement rings. This gemstone is used to swear eternal love with your partner. It is also good to use when you want to have stronger bond or trust. If you use it before you get together, it will be a good amulet to make closer relationship between the two.
---
Blue Sapphire has meaning and properties of having self-confidence on your thinking. It can give you power to endure criticisms or strained interpretations from others. It will let you go where you think it is right with your full strength. This gemstone will elicit the answer that you can get satisfied.

Chakra Chart of Blue Sapphire
9th Heaven Chakra
[God]

8th Air Chakra
[Cloud]

7th Crown Chakra
[Soul]

Blue Sapphire
[Wisdom] Thinking Ability

Blue Sapphire
[Voice] Expression

4th Heart Chakra
[Love]

3rd Solar Plexus Chakra
[Light]

2nd Sacral Chakra
[Guts]

1st Root Chakra
[Life]

0th Earth Chakra
[Person]
Author Hayasaka Yoshino

Hayasaka Yoshino is a stone healer that usually works in Tokyo area, Japan. Yoshino is also famous as a fortune teller and seen over 10,000 people. "Fortune-telling counseling", which finds out the best gemstone for the client, received a high reputation. Representative director of LWE Co., Ltd.
Other Gemstone Recommendation