Iron Meteorite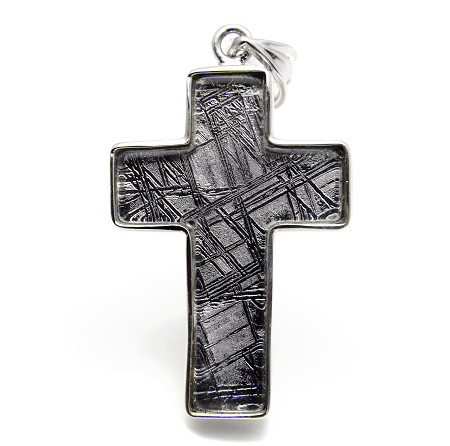 Iron Meteorite has meaning and properties to derive 100% of potential ability. It is a gemstone to break the limit of growth. It will support to exert true ability. It gives strength to face hardships and enemies.
---
Iron Meteorite has the meaning and properties to enhance the owner's intuition. It is a gemstone to make you quickly find a hidden clue of problem solving. You will get out of the pinch well. It is useful as an amulet of danger avoidance.
---
Iron Meteorite has the meaning and properties to enhance communication ability. It is a gemstone to sensitively perceive real intents and desires of others. It supports to acquire trust by deeply stepping into the heart of the opponent. It will be useful for finding the best buddies and partners.
---
Iron Meteorite is a metal Meteorite flying from outer space. The rocky Meteorite is called "Stony Meteorite". The proportion of flying to the earth is "Stony Meteorite 90%" and "Iron Meteorite 10%". Stony Meteorite is hard to find even if it is numerous. It looks like the rock of the earth. Ironic Meteorite is easy to distinguish at least even if the number is small because they are heavy.
---
The most famous Iron Meteorite is the type called "Gibeon". About 400 million years ago, it fell into around Namibia in Africa. More than 26 tons have been found out. A unique pattern "Widmanstatten structure" is seen.
---
The distribution amount of Iron Meteorite is not so much. It is sold at some gemstone shops that are strong in Meteorite. There is a high possibility that you cannot find it at casual gemstone shops. Please note that there are imitations of Iron Meteorite. The types with identification certificates are sold at the gemstone shop that is strong in Meteorites. If you are worried, please get Iron Meteorite that has been distinguished by specialized institution. Iron Meteorite is more expensive than other gemstones. Please secure a larger budget to purchase.
---
Iron Meteorite has the meaning and properties to determine "correct answer" and "incorrect answer". It is a gemstone to become strong against important choices. It supports you to choose a luckier path and let you go forward. It is popular by "managers" and "freelancers" etc. who make valuable and important choices.
---
Iron Meteorite has the meaning and properties to enhance the owner's adventure. It is a gemstone to use when you want a new opportunity. It is useful even when it is necessary to change the direction of life. It will greatly improve the flow of luck.
Chakra Chart of Iron Meteorite
9th Heaven Chakra
[God]

Gray Iron Meteorite
[Cloud] Application

7th Crown Chakra
[Soul]

6th Third Eye Chakra
[Wisdom]

5th Throat Chakra
[Voice]

4th Heart Chakra
[Love]

3rd Solar Plexus Chakra
[Light]

2nd Sacral Chakra
[Guts]

1st Root Chakra
[Life]

Black Iron Meteorite
[Person] Will Power
Author Hayasaka Yoshino

Hayasaka Yoshino is a stone healer that usually works in Tokyo area, Japan. Yoshino is also famous as a fortune teller and seen over 10,000 people. "Fortune-telling counseling", which finds out the best gemstone for the client, received a high reputation. Representative director of LWE Co., Ltd.
Other Gemstone Recommendation