Demantoid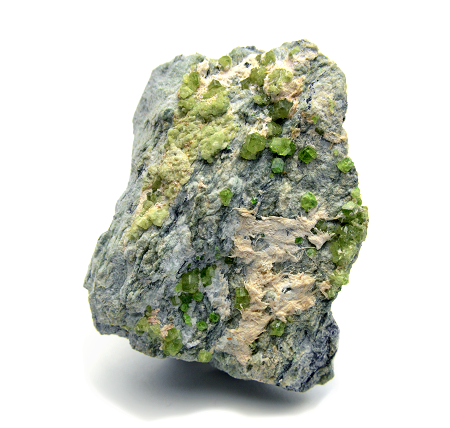 Demantoid has the meaning and properties to keep the brightness of the mind. It is a gemstone to prevent from controlling by negative energy. It is popular as "a jewel full of light energy". The brightness of the heart is the key to attract good luck. The support to switch to the lucky constitution is obtained.
---
Demantoid has the meaning and properties to enhance love luck. It is recommended when you want to be connected with loved ones. It will strongly break through the barrier of love. If you are already married, it helps to keep constant love.
---
Demantoid has the meaning and properties to see through hidden truth. It is a gemstone to make two sides of everything to one. It prevents from being confused by biased information. It is also used to protect from lies and brainwashing.
---
Demantoid is a type of "Andradite Garnet". The beautiful emerald green "Andoradite Garnet" is called "Demantoid". The coloring is due to the "chromium (Cr)" component. Demantoid has "light scattering degree" higher than that of Diamonds. The beautiful sparkle when it is jewelry-processed is also a big feature. Among many types of Garnet, it is designated as luxury goods. If you like Garnet, it is a gemstone you want to collect.
---
Demantoid is not so distributed. If you need it, please look for a gemstone shop that is strong in Garnet. "Necklace", "pierces" "raw stones" etc. are sold. The price is more expensive than regular Garnet. It is necessary to secure a large budget. It is easy to be mistaken for "Tsavorite Garnet" because of the same green color. "Tsavorite Garnet" is a kind of "Grossular Garnet", and it is different from Demantoid. Since there are many types of Garnet, please check the types well before purchase.
---
Demantoid has the meaning and properties to enhance adventurous spirit. It is a gemstone not to stop having useful information and experience. There is the power to avoid the aging of the heart. It is also recommended for those who wish to keep active for the entire life.
---
Demantoid has the meaning and properties to give the owner courage. It is a gemstone to give energy necessary for challenge and forward. It supports to overcome "fear" and "anxiety". It makes you go forward again even if you've given out once.
Chakra Chart of Demantoid
9th Heaven Chakra
[God]

8th Air Chakra
[Cloud]

7th Crown Chakra
[Soul]

6th Third Eye Chakra
[Wisdom]

5th Throat Chakra
[Voice]

Demantoid
[Love] Tolerance

3rd Solar Plexus Chakra
[Light]

2nd Sacral Chakra
[Guts]

1st Root Chakra
[Life]

0th Earth Chakra
[Person]
Author Hayasaka Yoshino

Hayasaka Yoshino is a stone healer that usually works in Tokyo area, Japan. Yoshino is also famous as a fortune teller and seen over 10,000 people. "Fortune-telling counseling", which finds out the best gemstone for the client, received a high reputation. Representative director of LWE Co., Ltd.
Other Gemstone Recommendation