Trapiche Emerald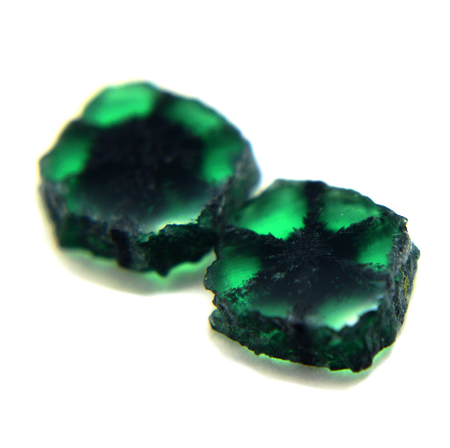 Trapiche Emerald has meaning and properties to enhance the charm of the owner. It is a gemstone to draw you close to the ideal image which you envision. It will satisfy the transformation desire. Trapiche Emerald is said to be "a jewel that preserves youthfulness". It is a gemstone to complement youthful appearance and fulfilling inner face.
---
Trapiche Emerald has the meaning and properties to enhance good luck. It is an amulet to lead a lot of businesses to success. It prevents the owner from finishing with "a one shot success." It is a gemstone to make the owner the true successful person.
---
Trapiche Emerald has the meaning and properties to improve human relations. It is a gemstone to make you understood the interest of others intuitively. It helps not to let others get bored and to be captivated. It helps to maintain a friendly and cooperative relationship.
---
Trapiche Emerald is an unusual Emerald that seems to spread radially. It looks like a pattern of flowers and gears. It is divided into 6 divisions. It is popular as a special Emerald. It is the one that Emerald lovers wish to collect.
---
Trapiche Emerald is a rare stone with little distribution. It will be troublesome to find it out. Please look for a gemstone shop that handles with a lot of rare stones. It is also easy to find from a shop that is strong in Emerald.
---
Trapiche Emerald is quite expensive. It will be more expensive as it has a well-formed shape and color. There are also many Trapiche Emerald of several million yen class. If you need it, we recommend you to have more budget.
---
Trapiche Emerald is available as "accessory", "loose" and "raw stone". If you want it for ornament, it is recommended to use loose or raw stone. The polished loose would be better suited for viewing. On unprocessed raw stone, you can enjoy the mysterious atmosphere the most. In the case of the accessory type, it is processed into "necklace" or "ring". In order to make use of the unique pattern, it is common to be cut round.
---
Trapiche Emerald has the meaning and properties to lead the fight to victory. It is a gemstone to prevent "fighting spirit" which is necessary for winning from withering. There are also the powers to repel such as "giving up", "compromise", and "excuses" and so on. It will let you see just the winning straight.
---
Trapiche Emerald has the meaning and properties to grasp opportunities accurately. It is a gemstone not to mistake "flow of good luck" and "flow of bad luck". It will advance you in the direction of bright lights. It is also popular as a talisman to improve luck.
Chakra Chart of Trapiche Emerald
9th Heaven Chakra
[God]

8th Air Chakra
[Cloud]

7th Crown Chakra
[Soul]

6th Third Eye Chakra
[Wisdom]

5th Throat Chakra
[Voice]

Trapiche Emerald
[Love] Tolerance

3rd Solar Plexus Chakra
[Light]

2nd Sacral Chakra
[Guts]

1st Root Chakra
[Life]

0th Earth Chakra
[Person]
Author Hayasaka Yoshino

Hayasaka Yoshino is a stone healer that usually works in Tokyo area, Japan. Yoshino is also famous as a fortune teller and seen over 10,000 people. "Fortune-telling counseling", which finds out the best gemstone for the client, received a high reputation. Representative director of LWE Co., Ltd.
Other Gemstone Recommendation