Malaya Garnet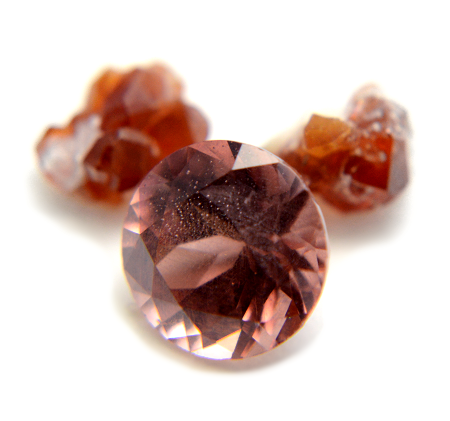 Malaya Garnet has the meaning and properties to flash good ideas. It is a useful gemstone to create new things and services. It is used even when you want to overwhelm and surprise the surroundings. It is also recommended for those who need a chance of success.
---
Malaya Garnet has the meaning and properties to prevent evil energies. It is a gemstone to protect from evil and bad vibes in the surroundings. It will invalidate the damages you receive every day. It is a useful amulet when it's hard to avoid a battle.
---
Malaya Garnet has the meaning and properties to win a battle. This is a gemstone which can be used for both of "offensive" and "defensive". It leads to victory by using all measures. It will activate "tactics of offence and win" and "tactics of defense and win" according to the circumstances. It is a talisman to let the owner grab "win" finally.
---
Malaya Garnet is a gemstone that "Almandine Garnet", "Spessartin Garnet" and "Pyrope Garnet" mix together. It is like a mixture of "red" and "orange". Malaya Garnet with a light color "orange pink" is also popular. It is known as a unique color Garnet. Malaya Garnet is famous from Kenya. It is also called "Umbalite". The name recognition is "Malaya Garnet"> "Umbalite". However, when it's introduced in public, it is smart to say "Umbalite ".
---
The distribution of Malaya Garnet is not so much. It will not be in most gemstone shops. It's good to visit several gemstone shops that are strong in rare stone in order to look for this gemstone. Malaya Garnet is a gemstone for collectors. It's also recommended to look for a shop that is strong in Garnet.
---
Malaya Garnet is sold as "accessory", "loose" or "gemstone" etc. If you find only a loose, please ask the jewelry shop to process it. The prices are more expensive than common Garnet. As there are few numbers, the price will become higher naturally. A little extra budget is necessary to obtain it.
---
Malaya Garnet has the meaning and properties to increase a judgment. It is a gemstone to distinguish "correct choice" and "wrong choice" accurately. It will cut off your hesitation and put you on the path toward the future of good fortune. The more crucial the decision is, the more power you give.
---
Malaya Garnet has the meaning and properties to regain the lost energy. It is a gemstone which symbolizes "regeneration" and "resurrection". It gives the power to get over the painful past. It will strongly progress you toward a new future.
Chakra Chart of Malaya Garnet
9th Heaven Chakra
[God]

8th Air Chakra
[Cloud]

7th Crown Chakra
[Soul]

6th Third Eye Chakra
[Wisdom]

5th Throat Chakra
[Voice]

4th Heart Chakra
[Love]

3rd Solar Plexus Chakra
[Light]

Orange Malaya Garnet
[Guts] Persistence

Pink Malaya Garnet
[Beauty] attractiveness

0th Earth Chakra
[Person]
Author Hayasaka Yoshino

Hayasaka Yoshino is a stone healer that usually works in Tokyo area, Japan. Yoshino is also famous as a fortune teller and seen over 10,000 people. "Fortune-telling counseling", which finds out the best gemstone for the client, received a high reputation. Representative director of LWE Co., Ltd.
Other Gemstone Recommendation