Amethyst Geode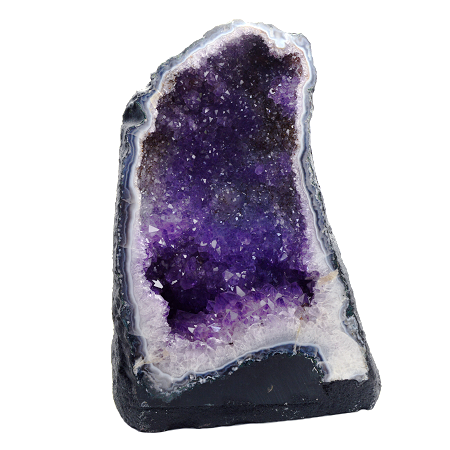 Amethyst Geode has meaning and properties to heal tired mind. It is a gemstone with strong healing energy. It will offset negative energy drifting around. It will give the owner deep comfort.
---
Amethyst Geode has meaning and properties to supplement deficient energy. Energies and vitality will be regained and will support the resumption of activities. It is also popular as a gemstone to prevent frustration and abandonment of things. It aims for a complete race and it will let you go forward.
---
Amethyst Geode has the meaning and properties of balancing emotions. It is a useful gemstone when you need to keep calm. It will avoid unnecessary confusion. At the meditation, putting it near makes you easier to concentrate. It is also recommended to put it in a rest room or bedroom.
---
Amethyst Geode is a gemstone where Amethyst grew fully in the cavity part of the stone. In order to make the interior of the cavity appear, it's divided into two and used. Basically you will often use one side. In rare cases the both sides are used as a set. There are characters in shape and varieties such as "round shape", "elliptical shape" or "deformed shape". If you find your favorite shape, it will become a treasure of your life.
---
Amethyst Geode is a gemstone that is popular as an interior. A beautiful crystal group is exactly a work of art created by nature. The recessed part is "a place where energy comes in". It will be useful when you want to collect lots of good energy. It's usually placed at an "entrance" or "living room" where a lot of people in and out of. It is also famous as a supplemental item of Feng Shui. You can also see them often at home or in offices of asset holders.
---
Distribution volume of Amethyst Geode is small. Because it is large and expensive, small and medium-sized gemstone shops will be difficult to handle. You can get it at a large gemstone shop with a special warehouse. Amethyst is jam-packed in it, so the price is expensive. Please prepare extra budget if you need it.
---
Amethyst Geode has the meaning and properties of fulfilling good relationships. It is a gemstone to meet with the best partner. It will draw a sincere and gentle partner that is good for your lifetime partner. If you are already married, it's greatly used as a gemstone to prevent cheating.
---
Amethyst Geode has the meaning and properties of putting fire on motivation for creation. It is a gemstone that makes the idea that you imagined into shape. Works with passion will attract a lot of people. It is useful when you want a masterpiece or a hit, etc.
Chakra Chart of Amethyst Geode
9th Heaven Chakra
[God]

8th Air Chakra
[Cloud]

Amethyst Geode
[Soul] Intuition

6th Third Eye Chakra
[Wisdom]

5th Throat Chakra
[Voice]

4th Heart Chakra
[Love]

3rd Solar Plexus Chakra
[Light]

2nd Sacral Chakra
[Guts]

1st Root Chakra
[Life]

0th Earth Chakra
[Person]
Author Hayasaka Yoshino

Hayasaka Yoshino is a stone healer that usually works in Tokyo area, Japan. Yoshino is also famous as a fortune teller and seen over 10,000 people. "Fortune-telling counseling", which finds out the best gemstone for the client, received a high reputation. Representative director of LWE Co., Ltd.
Other Gemstone Recommendation