Palladium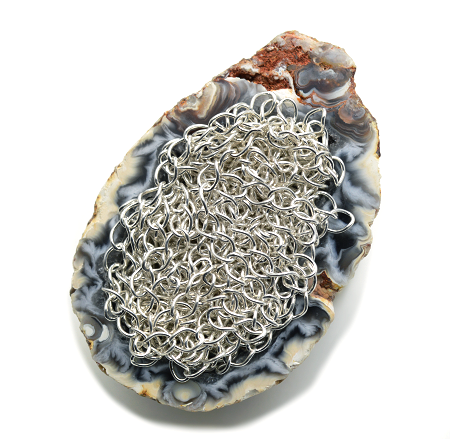 Palladium has meaning and properties of making a chance for your luck to recover. It is an amulet to strongly grab the flow of luck. You can get a hint to get out from difficult situations. It can change a negative situation into a positive situation.
---
Palladium has meaning and properties of increasing its owner's will power. It is an amulet to achieve goals with strong will. It is useful when you want to improve your ruined life. Palladium would let you head powerfully to a way to success.
---
Palladium has meaning and properties of enhancing desire for knowledge. It is an amulet that can let you actively absorb useful information or technology. Palladium is good to use when you want to have good results on brain work. It will also give you concentration and persistency needed for studying.
---
Palladium is a kind of metal included in Native Platinum. Native Platinum includes kinds of metal listed below.
- Platinum
- Palladium
- Rhodium
- Ruthenium
- Osmium
- Iridium
- Iron
If you need the power of Palladium, please get Native Platinum.
---
Palladium can be collected when purifying minerals such as copper, nickel, or zinc. Palladium is silver-colored metal and it is soft. It is lighter than Platinum that has similar qualities. It is often used for industrial use. It can be a cleaning device that cleans car fumes. Moreover, it is used for silver crowns for teeth, alloy, coins, or a material to generate hydrogen.
---
Metal made from mixture of Gold (Au), Nickel (Ni), and Palladium (Pd) is called White Gold. By mixing Palladium, the color becomes closer to silver. You can receive the power of Palladium by using White Gold. It is easier to find White Gold than Native Platinum. Palladium is categorized in Minor Metals. Therefore, products that include Palladium are expensive.
---
Palladium has meaning and properties of judging right and wrong of things. It is an amulet that can enhance its owner's both insight and intuition at the same time. It would help you accurately choose a choice with more benefits. Palladium can protect you from confused by lies and maliciousness from your surroundings.
---
Palladium has meaning and properties of keeping relationships well. It is an amulet to strengthen cooperative system in your group. Palladium will be useful to improve mutual understanding and trust. It is also good to use when you want organizational capacity to restrain enemies.
Chakra Chart of Palladium
9th Heaven Chakra
[God]

Palladium
[Cloud] Application

7th Crown Chakra
[Soul]

6th Third Eye Chakra
[Wisdom]

5th Throat Chakra
[Voice]

4th Heart Chakra
[Love]

3rd Solar Plexus Chakra
[Light]

2nd Sacral Chakra
[Guts]

1st Root Chakra
[Life]

0th Earth Chakra
[Person]
Author Hayasaka Yoshino

Hayasaka Yoshino is a stone healer that usually works in Tokyo area, Japan. Yoshino is also famous as a fortune teller and seen over 10,000 people. "Fortune-telling counseling", which finds out the best gemstone for the client, received a high reputation. Representative director of LWE Co., Ltd.
Other Gemstone Recommendation