Nickel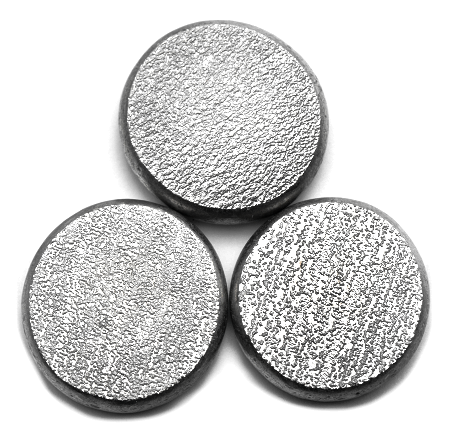 Nickel has meaning and properties of soothing your rough emotion. It is a useful amulet to get back a calm state. It would help you prevent making easy mistakes or extreme logic. Nickel will give you both calmness and extra room in your mind.
---
Nickel has meaning and properties to prevent keeping negative energy in you. It is an amulet to keep the flow of luck. It also has the power to prevent traps from your enemies or sudden accidents. Nickel will be a great amulet for you.
---
Nickel has meaning and properties of filling up mental vitality. It is an amulet that can prevent your strong passion or will to disappear. Nickel is useful when you want to win a long fight. It would also prevent you from getting weak-spirited in the middle of your project.
---
Nickel is silver-colored metal. It is easy to process and has high corrosion resistance. Many people would consider this as metal for industrial use. It is used for alloy, magnetic shields, batteries, and coins. It can be extracted from a gemstone called Pentlandite. So, Alloyed Nickel is originally a gemstone and it can be a good amulet if you use it well. You can use Nickel as an amulet if you learn the energy properties of Nickel. The chemical symbol of Nickel is Ni. The atomic number is 28.
---
Minerals that contain Nickel are as follows.
- Pentlandite
- Millerite
- Niccolite
- Gibeon Meteorite
You can receive the power of Nickel from minerals above. Minerals that contain Nickel is more powerful than an alloy that include Nickel. If you want to have it, please look in gemstone shops that are good at mineral specimens. It is rare in the market, so ordinary gemstone shops don't have it. Gibeon is often made into accessories. If you want to wear Nickel, please look for an accessory made of Gibeon.
---
Nickel is known as a material of stainless steel. Stainless steel is an alloy made from Iron (Fe), Chromium (Cr), Nickel (Ni) and some others. You may have the power of Nickel from stainless steel products. Please look for them, too. Products made of stainless steel is hard and corrosion-resistant.
---
Nickel has meaning and properties of increasing its owner's power to try. It would let you boldly try things that 99% of the people say, "It's impossible." You can have the power to destroy existing conventions. It would give you benefits in a new ground prior to others. It is also good for people who want to win on investment.
---
Nickel has meaning and properties of enhancing its owner's creativity. It is an amulet to embody novel and free imagination. You could make big success by making innovative things or service. It is also good to use when you want to accomplish a big plan.
Chakra Chart of Nickel
9th Heaven Chakra
[God]

Nickel
[Cloud] Application

7th Crown Chakra
[Soul]

6th Third Eye Chakra
[Wisdom]

5th Throat Chakra
[Voice]

4th Heart Chakra
[Love]

3rd Solar Plexus Chakra
[Light]

2nd Sacral Chakra
[Guts]

1st Root Chakra
[Life]

0th Earth Chakra
[Person]
Author Hayasaka Yoshino

Hayasaka Yoshino is a stone healer that usually works in Tokyo area, Japan. Yoshino is also famous as a fortune teller and seen over 10,000 people. "Fortune-telling counseling", which finds out the best gemstone for the client, received a high reputation. Representative director of LWE Co., Ltd.
Other Gemstone Recommendation