Colored Diamond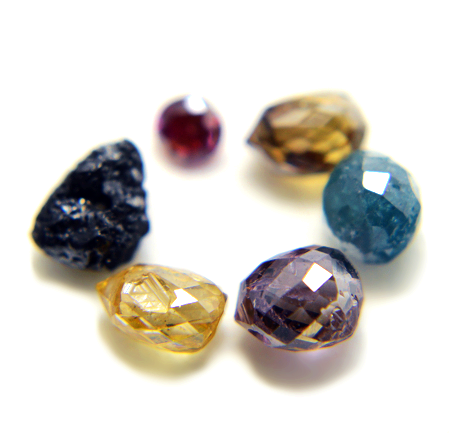 Colored Diamond indicates kinds of Diamond with colors. All the Diamonds other than Diamond with clear color are Colored Diamond. It is also called Fancy Colored Diamonds. Diamond is a colorful kind of gemstone and you can find most of the colors. It is very boring to consider Diamond is clear color only. Colored Diamond is very beautiful, and many gemstone fans are fond of it.
---
Main types of Colored Diamond are listed below. Please check the explanation on the link for more details.
Diamonds have additional power depending on its color.
Main elements are as follows.
Purple Diamond: increase mental power
Blue Diamond: increase thinking ability
Green Diamond: increase will-power
Yellow Diamond: increase productivity
Brown Diamond: increase patience
Orange Diamond: increase vitality
Pink Diamond: increase attractiveness
Red Diamond: increase ability to take actions
Gray Diamond: increase continuing ability
Black Diamond: increase decision making ability
White Diamond: increase teaching ability
Please use necessary Colored Diamond depending on your current situation.
---
The value of Diamond depends on its color. Natural-colored Blue Diamond, Yellow Diamond, or Pink Diamond is more expensive than Diamond with clear color. There was Colored Diamond that was priced a few billion yen at an auction. Colored Diamond with a rare color will be favored by gemstone collectors. It is also recommended for people who got bored with regular Diamond.
---
Colored Diamond has two types: ones with natural color and ones with processed color. The color of Diamond will change by high temperature and high pressure. Its color will also change by being exposed to radiation. Ones with processed color is cheaper than ones with natural color. When you buy Colored Diamond, please check whether it is processed or not. If you are worried about it, please look for Colored Diamond with gemstone certificate.
---
Colored Diamond is rare in the market. Most shops sell only Diamonds with clear color. You can buy it in some shops that are good at Colored Diamonds. Please be patient until you find your favorite Colored Diamond. Exceptionally, Black Diamond is easier to get compared to other colors.
Chakra Chart of Colored Diamond
White Diamond
[God] Creativity

Gray Diamond
[Cloud] Application

Purple Diamond
[Soul] Intuition

Blue Diamond
[Wisdom] Thinking Ability

Blue Diamond
[Voice] Expression

Green Diamond
[Love] Tolerance

Yellow Diamond
[Light] Productivity

Brown Diamond
[Guts] execution power

Pink Diamond
[Beauty] attractiveness

Black Diamond
[Person] Will Power
Author Hayasaka Yoshino

Hayasaka Yoshino is a stone healer that usually works in Tokyo area, Japan. Yoshino is also famous as a fortune teller and seen over 10,000 people. "Fortune-telling counseling", which finds out the best gemstone for the client, received a high reputation. Representative director of LWE Co., Ltd.
Other Gemstone Recommendation