Opalite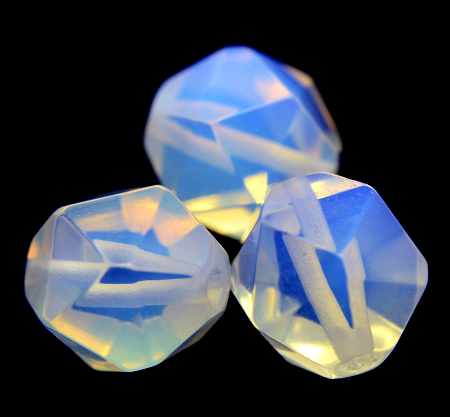 Opalite has the meaning and properties of making your mind bright. This gemstone has the energy of bright light. It is useful when you want to get back positive thinking. It would enhance the happy feeling in your daily life.
---
Opalite has the meaning and properties of bringing out hidden potential. This gemstone can bloom your talents sleeping inside you. It will be useful if you hope to maximize your value. It is also good to use when you want to improve your self-confidence.
---
Opalite has the meaning and properties of enhancing expressive ability. This gemstone would embody the best idea in your mind. It will let you express in various ways such as writing, photographs, music, voice, videos, or sculptures. It would avoid things to end in self-completion. You can get a chance to make results from your expression.
---
Opalite is artificial glass that looks like a gemstone. It is not a natural gemstone, so please be aware. Although it is an artificial gemstone, it is very popular as an amulet. There are many amulets sold in stores. The strength of Opalite as an amulet is weaker than natural gemstones. If you consider the strength of energy more, it is better to have natural gemstones. However, the price of Opalite is lower than natural gemstones. If you consider more easiness and the lower price, Opalite will be better for you.
---
Opalite is a gemstone that has many kinds of names.
The main kinds of other names are as follows.
- Synthetic Opal
- Obsidian Opal
- Sea Opal
- Opal Quartz
- Opal Moonstone
They have Opal, Obsidian, Quartz, or Moonstone in their names, but they are not natural gemstones.
---
The amount of Opalite in the market is ordinary. It is sold in gemstone shops and variety stores. You can buy bracelets, necklaces, and earrings. The most popular color is white. The bluish-white shine, the special feature of Opalite, looks the most beautiful on white. Other than white, there are Opalite with a pink or yellow color.
---
Opalite has the meaning and properties of avoiding messy emotion. It is a good healing stone that can gently heal negative feelings. It will prevent having malicious things in your mind. Opalite is useful when you want to keep yourself calm.
---
Opalite has the meaning and properties of overcoming difficulties smoothly. It would let you find a solution to the problem without being hasty. It will support you not to get out of the way in the middle. This is a good amulet to get back your peaceful daily life.
Chakra Chart of Opalite
White Opalite
[God] Creativity

8th Air Chakra
[Cloud]

7th Crown Chakra
[Soul]

6th Third Eye Chakra
[Wisdom]

5th Throat Chakra
[Voice]

4th Heart Chakra
[Love]

3rd Solar Plexus Chakra
[Light]

2nd Sacral Chakra
[Guts]

1st Root Chakra
[Life]

0th Earth Chakra
[Person]
Author Hayasaka Yoshino

Hayasaka Yoshino is a stone healer that usually works in Tokyo area, Japan. Yoshino is also famous as a fortune teller and seen over 10,000 people. "Fortune-telling counseling", which finds out the best gemstone for the client, received a high reputation. Representative director of LWE Co., Ltd.
Other Gemstone Recommendation