Champagne Gold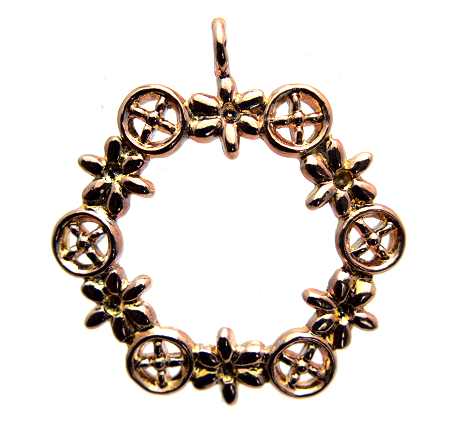 Champagne Gold is a "beige (light brown color)" Gold material. It is an alloy based on "Gold (Au)" as the main component. A beautiful champagne color is produced by mixing metal with "Gold (Au)". Gold materials have been used as amulets since ancient times. It becomes an amulet that attracts good luck by wearing.
---
The metal used for Champagne Gold is as follows.
[1] "Gold (Au)"
[2] "Palladium (Pd)"
[3] "Copper (Cu)"
[4] "Silver (Ag)"
By mixing "palladium (Pd)", "copper (Cu)" and "Silver (Ag)" into "Gold (Au)", champagne color is produced. The proportion of "Gold (Au)" is about 75%. The more copper (Cu) is contained, the more reddish Champagne Gold becomes. The one plating its surface with "rhodium (Rh)" becomes "White Gold". When it is "Gold (Au) 75%" + "copper (Cu) 25%", it becomes "Red Gold". "Pink Gold" is produced with "Gold (Au) 75%" + "copper (Cu) 25%" + "Silver (Ag) 5%".
---
Champagne Gold is a material with excellent corrosion resistance. It is difficult to discolor the color with sweat and air. From this characteristic it is said to be "metal that prevents negative energy". It strongly blocks negative energy of the surrounding. Champagne Gold accessories are effective as amulets against evil. The condition that the color does not discolor is also the symbol of "youth". It is also recommended when you want to increase beauty luck.
---
Champagne Gold is often used with jewels. The ability as an amulet will increase by using it with jewels. Each jewel has its own special energy. Please find your favorite jewel and attach it to Champagne Gold. For those who use jewelry for the first time, birthstone is recommended. Jewelry installation is available at a jewelry shop that is strong to custom-made.
---
The distribution volume of Champagne Gold is small. It is not sold at most jewelry shops. If you need it, please look for a shop that is strong in "Colored Gold". We also recommend you to search for the name of "Beige Gold" or "Brown Gold". There is a demand because it has a calm atmosphere in comparison with that of ordinary Gold material. It is also recommended when you got tired of ordinary Gold color.
---
Champagne Gold is processed into jewelry and so on. "Necklace", "pierces", "ring" etc. are sold. Since the main ingredient is precious Gold (Au), the price is expensive. Please secure more budgets when you get it.
Chakra Chart of Champagne Gold
9th Heaven Chakra
[God]

8th Air Chakra
[Cloud]

7th Crown Chakra
[Soul]

6th Third Eye Chakra
[Wisdom]

5th Throat Chakra
[Voice]

4th Heart Chakra
[Love]

Champagne Gold
[Light] Productivity

2nd Sacral Chakra
[Guts]

1st Root Chakra
[Life]

0th Earth Chakra
[Person]
Author Hayasaka Yoshino

Hayasaka Yoshino is a stone healer that usually works in Tokyo area, Japan. Yoshino is also famous as a fortune teller and seen over 10,000 people. "Fortune-telling counseling", which finds out the best gemstone for the client, received a high reputation. Representative director of LWE Co., Ltd.
Other Gemstone Recommendation