Melanite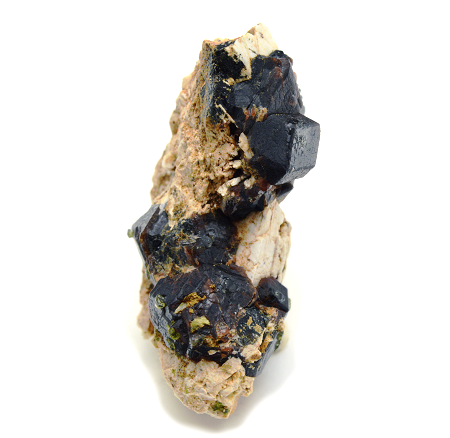 Melanite has the meaning and properties to calm the mind. It is a healing stone to heal a disorderly heart. It helps when calm judgment is necessary. It will let you move on to the best path in a phase you do not want to fail.
---
Melanite has the meaning and properties to make the best idea flashes. It will help you to grab opportunities for success. It is a gemstone to wipe off the stagnant flow of luck. It changes the negative flow to a positive flow.
---
Melanite has the meaning and properties to restore lost confidence. It is a gemstone to get out of the chain of self-denial. It makes you look to "good points" rather than your "disadvantages". It will bring out the best power in areas where your strength can be utilized.
---
Melanite is a kind of "Andradite Garnet". Black "Andradite Garnet" is called Melanite. It will shine beautifully when it is cut appropriately. The yellow Andradite Garnet is called "Topazolite". The green Andradite Garnet is "Demantoid". The name changes according to the color of Andradite Garnet.
---
Melanite is "Garnet" containing "calcium (Ca)" and "iron (Fe)". The process by which Melanite is produced is as follows.
[1] "Limestone" touches the magma and causes a change.
[2] Boundary between "Limestone" and magma becomes "Skarn".
(Skarn is an aggregate of various minerals.)
[3] Andradite Garnet is born.
[4] The black part is called Melanite.
It is also produced from the rocks called "Serpentine".
---
The distribution volume of Melanite is small. It will not be sold in most gemstone shops. It is a rare stone for jewelry collectors. If you need it, please find a shop that is strong in "rare stone" or "Garnet". Most is raw stone specimen types and, in rare cases, they are processed into jewelries.
---
Melanite has the meaning and properties to prevent negative energy. It will prevent the source of unhappiness from approaching. You can also gain the power to prevent negative emotions. It will help keep constant positive attitude.
---
Melanite has the meaning and properties of leading the fight to victory. It is a gemstone to grab good results in the fields of "work", "examination", "game" or "investment" etc. It also gives you the courage to stand up against enemies and difficulties. It is also recommended when you want a reverse flow.
Chakra Chart of Melanite
9th Heaven Chakra
[God]

8th Air Chakra
[Cloud]

7th Crown Chakra
[Soul]

6th Third Eye Chakra
[Wisdom]

5th Throat Chakra
[Voice]

4th Heart Chakra
[Love]

3rd Solar Plexus Chakra
[Light]

2nd Sacral Chakra
[Guts]

1st Root Chakra
[Life]

Melanite
[Person] Will Power
Author Hayasaka Yoshino

Hayasaka Yoshino is a stone healer that usually works in Tokyo area, Japan. Yoshino is also famous as a fortune teller and seen over 10,000 people. "Fortune-telling counseling", which finds out the best gemstone for the client, received a high reputation. Representative director of LWE Co., Ltd.
Other Gemstone Recommendation