Optical Calcite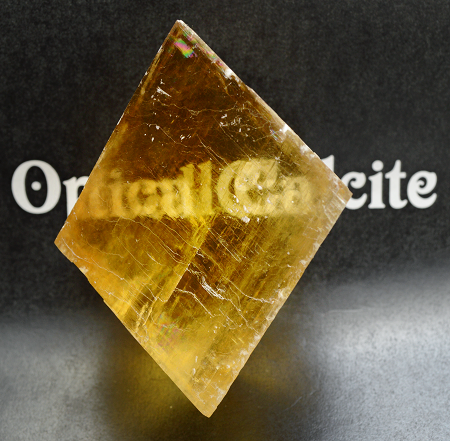 Optical Calcite has the meaning andproperties of activating energy in the body. It is a gemstone to make up thepart which energy is insufficient sufficiently. Exhausted "passion" or"affection" will also be revived. It will lead to improvement of the situationwithout energy.
---
Optical Calcite has a meaning andproperties to purify negative energy. It is a gemstone full of bright"energy of light". It cleanses the source of unhappiness fairlycleanly. It will be useful when you want to improve the flow of luck.
---
Optical Calcite has the meaning andproperties to give a hint of problem solving. You will have a chance to get outof the stagnant situation. It is a gemstone which changes the minus portion sofar to plus. It will clean up the stress caused by worries.
---
Optical Calcite is "Calcite with avery high transparency. When placing the Optical Calcite on the character, theline looks double. This phenomenon will be called "Doubling". When itis "Calcite" with low transparency, letters do not show through.Please use an Optical Calcite with high transparency to confirm"Doubling".
---
The basic way to enjoy Optical Calcite isdescribed below.
[1] Buy a diamond-shaped Optical Calcite.
* Optical Calcite of a shape like crushing abox lightly is the best.
* Highly transparent Optical Calcite isrecommended.
[2] Open a book nearby.
[3] Place the Optical Calcite on the book.
[4] Turn the Optical Calcite.
[5] Enjoy seeing how the letters in thebook are doubled.
---
There are several color variations forOptical Calcite. The types such as "yellow", "transparentcolor", "pink" or "green" will be sold."Yellow" and "transparent color" Optical Calcite arepopular. Please choose your favorite color and use it.
---
The distribution volume of Optical Calciteis normal. You can find a shop that is strong in the mineral specimen bysearching all over. The price will fluctuate with "transparency","beauty of color", "little scratches" or "size"etc. The high quality type is beautiful so as not to be seen as a naturalstone.
---
Optical Calcite has the meaning andproperties to enhance challenging power. It is a gemstone to positivelychallenge new possibilities. It helps you to escape from "repeating sameevery day". It is a talisman to end boring daily life.
---
Optical Calcite has the meaning andproperties to promote ability growth. It is a gemstone to enhance knowledge andtechnology absorption ability. It supports you to obtain multiple notes fromone piece of information. It will also give momentum to overtake rivals.
Chakra Chart of Optical Calcite
Clear Optical Calcite
[God] Creativity

8th Air Chakra
[Cloud]

7th Crown Chakra
[Soul]

6th Third Eye Chakra
[Wisdom]

5th Throat Chakra
[Voice]

4th Heart Chakra
[Love]

Yellow Optical Calcite
[Light] Productivity

2nd Sacral Chakra
[Guts]

1st Root Chakra
[Life]

0th Earth Chakra
[Person]
Author Hayasaka Yoshino

Hayasaka Yoshino is a stone healer that usually works in Tokyo area, Japan. Yoshino is also famous as a fortune teller and seen over 10,000 people. "Fortune-telling counseling", which finds out the best gemstone for the client, received a high reputation. Representative director of LWE Co., Ltd.
Other Gemstone Recommendation