Siberite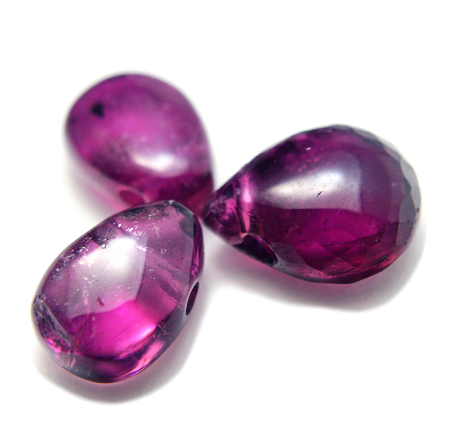 Siberite has the meaning and properties of healing the wounds of the heart. It will heal the past trauma and regain the power to proceed toward the future. It is a gemstone to give the "light of hope" to the owner. It will help you to overcome "anxiety", "terror", "sadness" and "anger" strongly.
---
Siberite has the meaning and properties of flashing innovative ideas. It will give you a hint for a good change. It will overwhelm the surroundings with a different technique. It will wipe out the boredom so far.
---
Siberite has the meaning and properties to enhance intuition. It is a gemstone to sense and understand invisible energy. It will make you see various elements from "flow of fortune" to "evil trap". It will make 100% instinctive sense that people originally have.
---
Siberite is a purple "Tourmaline". It is also called "Purple Tourmaline". Many types are close to reddish purple. The color is often dense. If it looks like "red" or "pink", it is called "Rubellite". Since it is a subtle difference, please be careful not to make a mistake.
---
Many "Elbaite" which is a type of "Tourmaline" has "deep red" and "green". Many of Siberite will be purple "Elbaite". "Elbaite" is "Tourmaline" that contains a lot of "lithium (Li)". It is produced from rock called "Pegmatite". It has both "beautiful color" and "high transparency". High quality type is the material of fine jewelry.
---
The distribution volume of Siberite is not so much. "Tourmaline" is popular in "deep red color" and "pink color". Purple Siberite (Purple Tourmaline) is not well known. If you need it, please find a jewelry shop that is strong in "Tourmaline". There is demand, so you'll be able to find it if you search patiently. Siberite is processed into "necklace", "pierce" "bracelet" etc. The price is higher than the general gemstone.
---
Siberite has the meaning and properties of preventing negative energy. It is a gemstone to play an active role as amulet against evils. It will keep away the source of unhappiness. It will also prevent you from falling into gloomy feelings.
---
Siberite has the meaning and properties to enhance the charm of the owner. It is a useful gemstone when you want to increase good matches. It is used when you want to attract "marriage partner", "friends", "business partners", "good customers", etc. It is effective also when you want to relieve "ignorance" and "loneliness".
Chakra Chart of Siberite
9th Heaven Chakra
[God]

8th Air Chakra
[Cloud]

Siberite
[Soul] Intuition

6th Third Eye Chakra
[Wisdom]

5th Throat Chakra
[Voice]

4th Heart Chakra
[Love]

3rd Solar Plexus Chakra
[Light]

2nd Sacral Chakra
[Guts]

1st Root Chakra
[Life]

0th Earth Chakra
[Person]
Author Hayasaka Yoshino

Hayasaka Yoshino is a stone healer that usually works in Tokyo area, Japan. Yoshino is also famous as a fortune teller and seen over 10,000 people. "Fortune-telling counseling", which finds out the best gemstone for the client, received a high reputation. Representative director of LWE Co., Ltd.
Other Gemstone Recommendation