Moss Aquamarine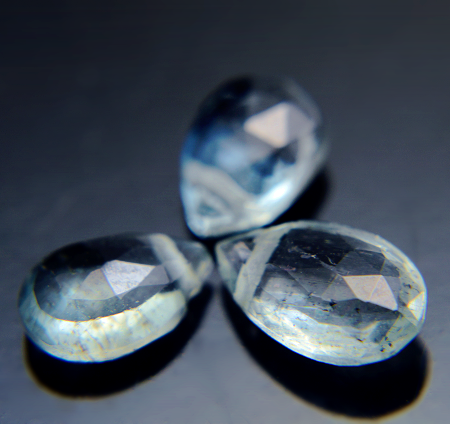 Moss Aquamarine has the meaning and properties of inspiring the idea of success. You will have the opportunity to create revolutionary "things" and "services". It is a gemstone to give great impression to the surroundings. It is also used when you want to get out of the ordinary environment.
---
Moss Aquamarine has the meaning and properties to enhance expression. It is a gemstone to make you strongly confident in your expression. It prevents you from making a failure by too much adjusting yourself to people around you. It is also recommended for those who need strong individuality.
---
Moss Aquamarine has the meaning and properties to enhance communication skill. It is a gemstone to make you intuitively understand true thoughts of others. You will gain the power to advance the conversation favorably. It is an amulet to fascinate someone in mind.
---
Moss Aquamarine contains "Inclusions" like moss. The identity of this Inclusion is a mineral called "Ilmenite". By including black "Ilmenite", it creates a unique atmosphere. It is Aquamarine with a natural stone-like flavor.
---
The atmosphere of Moss Aquamarine changes according to the amount of "Inclusion". The more "Inclusion" it contains, the more the color becomes black.
[Small amount type] Adds moderate taste on Aquamarine.
[Proper amount type] Becomes dark color Aquamarine.
[Mass type] Enjoyable the Inclusion of "Ilmenite" mainly.
If the black taste is strong, it will also be called "Black Aquamarine" or "Black Rain Aquamarine".
---
Moss Aquamarine is a gemstone with small distribution volume. Most gemstones shops will not handle it. It is available from a shop that is strong in unusual stones. While searching for Aquamarine, you may find it by chance. It is processed into such as "necklace", "earrings" and "bracelet" shapes.
---
Moss Aquamarine has the meaning and properties to calm feeling. It is a healing stone to gently heal negative emotions. It is used to reduce daily stress. It will prevent the explosion of emotions in advance. It is recommended when you desire peaceful every day.
---
Moss Aquamarine has the meaning and properties to enhance love luck. It is effective for both "when you want to love" and "when you want to be loved". It reminds you of the pleasure of nurturing love. You will get a chance to get out of a lonely situation.
Chakra Chart of Moss Aquamarine
9th Heaven Chakra
[God]

8th Air Chakra
[Cloud]

7th Crown Chakra
[Soul]

6th Third Eye Chakra
[Wisdom]

Moss Aquamarine
[Voice] Expression

4th Heart Chakra
[Love]

3rd Solar Plexus Chakra
[Light]

2nd Sacral Chakra
[Guts]

1st Root Chakra
[Life]

0th Earth Chakra
[Person]
Author Hayasaka Yoshino

Hayasaka Yoshino is a stone healer that usually works in Tokyo area, Japan. Yoshino is also famous as a fortune teller and seen over 10,000 people. "Fortune-telling counseling", which finds out the best gemstone for the client, received a high reputation. Representative director of LWE Co., Ltd.
Other Gemstone Recommendation