Covelline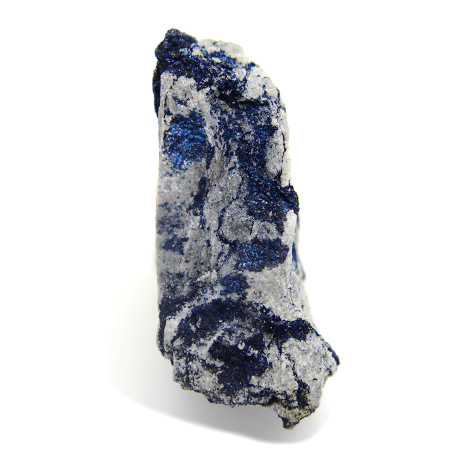 Covelline has the meaning and properties to eliminate past trauma. It is a gemstone to keep the heart from hurting any more. It changes the viewpoint from "past" to "future". It is an amulet to give "energy" and "courage" in order to advance towards the future.
---
Covelline has the meaning and properties of making thoughts flexible. It is a gemstone to positively absorb new information and technology. It will update the ability has been cultivated to the latest version. It will prevent thoughts from stagnating.
---
Covelline has the meaning and properties to enhance the owner's insight. It is a gemstone to instantly see through "correct answer" and "incorrect answer" of things. It is also recommended when deep and accurate knowledge is required. It will also prevent you from being misled by negative media information.
---
Covelline is a mineral made up of "copper (Cu)" + "sulfur (S)". It will be classified as a kind of "Sulfide minerals". It is metallic shiny and beautiful. The specific gravity is heavy, and you may feel its weight heavy when you hold it in your hand. "Covelline" will also be described as "Covellite".
---
Covelline is a gemstone that radiates a beautiful indigo shine. It is popular as a specimen, but the output is small. Since it is few, it is not suitable for ore to get copper. For the copper ore, "Chalcopyrite", "Tetrahedrite" or "Bornite", etc. is used. The indigo color of Covelline will be lost when it is powdered.
---
Covelline is often born as it changes from "Chalcopyrite". There are cases where "the surface is Covelline and the inside is Chalcopyrite". It cannot be distinguished from the appearance alone. The crystal will be like a plate as "Mica".
---
There are few shops to deal with Covelline. it is a gemstone that is often used for collection. It is sold at gemstone shops that are strong in mineral specimen, and so on. Even it is very small amount, there will be accessorized Covelline.
---
Covelline has the meaning and properties to hasten the realization of dreams. It is a gemstone to make you confront with what you decided once at full power. It is recommended when you want to concentrate energy to one point. It is an effective amulet even when you want to raise the fulfillment of life.
---
Covelline has the meaning and properties of making feelings brighter. It is a gemstone to change your constitution to that which lucky events are easily attracted. The acquired lucks pull even greater fortune. It is effective when you need improvement of luck.
Chakra Chart of Covelline
9th Heaven Chakra
[God]

8th Air Chakra
[Cloud]

7th Crown Chakra
[Soul]

Covelline
[Wisdom] Thinking Ability

5th Throat Chakra
[Voice]

4th Heart Chakra
[Love]

3rd Solar Plexus Chakra
[Light]

2nd Sacral Chakra
[Guts]

1st Root Chakra
[Life]

0th Earth Chakra
[Person]
Author Hayasaka Yoshino

Hayasaka Yoshino is a stone healer that usually works in Tokyo area, Japan. Yoshino is also famous as a fortune teller and seen over 10,000 people. "Fortune-telling counseling", which finds out the best gemstone for the client, received a high reputation. Representative director of LWE Co., Ltd.
Other Gemstone Recommendation