Black Opal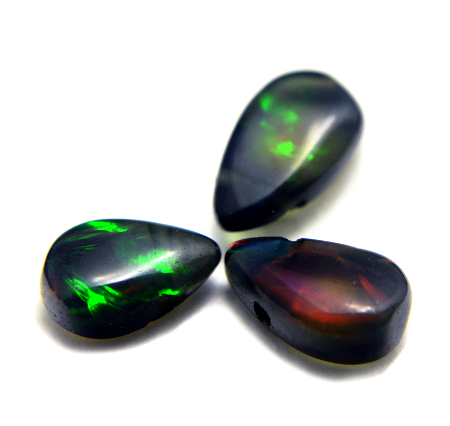 Love and Relationships

[1]

Make a mutual love


[2]

Build a well-balanced relationship


[3]

Give a good stimulation


[4]

Shine with an aura


[5]

Understand different values

Money and Business

[1]

Get personality


[2]

Grab the opportunity


[3]

Create good relationships


[4]

Predict the future


[5]

Increase pioneering power

Other Energy

[1]

Keep sanity


[2]

Talisman against evil


[3]

Get a good idea


[4]

Attract a miracle


[5]

Heal incongruity

Black Opal gemstone is said to strengthen your character. Since black color remains black, the meaning of Black Opal is to be yourself. Opal has wide varieties of colors. White and pale versions are most common. Due to its limited supply, Black Opal has been cherished among collectors. The gemstone has a distinct interpretation due to its distinct power.
---
Black Opal has two types, which are stones with or without the full spectrum of color inside. Both of the types have its distinct power but the stone with the full spectrum of color has more power in it. The Black Opal with the full spectrum of color is treated as jewelry. Be noticed that such type is precious and pricey. So you need to set a high budget. In case you find a cheap version for Black Opal, it could be a fake gemstone, so it is better not to purchase it.
---
Opal is a Sanscrit name. It means "Change of colors" and became the name of Opal. From this origin, it has become popular as a talisman to bring life change and has been cherished around the world until now. If you want to change the direction of your life or want to make a right decision, try wearing Black Opal. It is also used to bring out innate skills and capabilities in you. If you seek for a life change, try wearing Black Opal to experience its benefits.
---
Opal stone has a long history and is discovered 4000 years ago. Because of its old history, there are many legends and folklores about Opal. Opal stone has been considered as "Tears of Gods" and "Crystallized stone from sacred waters". Black Opal has been cherished as a special talisman among the people in power. It is said to bring a business success and a great idea to its wearer.
---
Black Opal is known as a stone of prediction. It has been believed that Black Opal gives you a power to foresee a future and brings a good future. It is imperative to have a skill to foresee the future in business world. Black Opal will be a talisman for you to survive in the ever-changing business world. The gemstone is also effective for the people who deal with information and services.
---
The full spectrum of colors inside Black Opal symbolizes harmony. It has been considered to balance the energy of its owner. In some legends, it is said that "Opal is made on the spot where rainbow arises in the sky." Opal has been symbolized as a miracle or hope. In ancient times, Opal has been believed to have a healing power and used to treat patients. Opal has been said to have a beautiful goddess in it and cherished as valuable jewelry.
Chakra Chart of Black Opal
9th Heaven Chakra
[God]

8th Air Chakra
[Cloud]

7th Crown Chakra
[Soul]

6th Third Eye Chakra
[Wisdom]

5th Throat Chakra
[Voice]

4th Heart Chakra
[Love]

3rd Solar Plexus Chakra
[Light]

2nd Sacral Chakra
[Guts]

1st Root Chakra
[Life]

Black Opal
[Person] Will Power
Black Opal Data
Chemical formula
SiO2 nH2O
Mohs scale
5.5-6.5
Specific gravity
1.99-2.25
Production
Australia
Mexico
Slovak Republic
Combination
Author Hayasaka Yoshino

Hayasaka Yoshino is a stone healer that usually works in Tokyo area, Japan. Yoshino is also famous as a fortune teller and seen over 10,000 people. "Fortune-telling counseling", which finds out the best gemstone for the client, received a high reputation. Representative director of LWE Co., Ltd.
Other Gemstone Recommendation