Black Tourmaline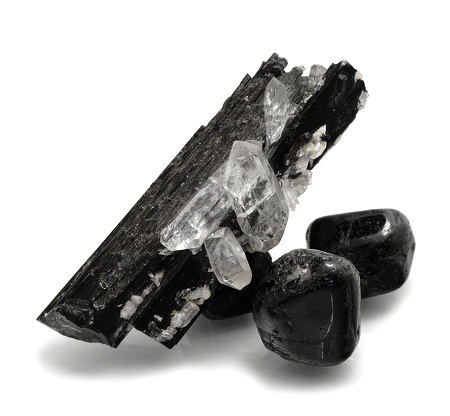 Love and Relationships

[1]

Attract a good match


[2]

Be positive


[3]

Strengthen bonds


[4]

Improve relations


[5]

Heal the wounds of your mind

Money and Business

[1]

Gain spiritual strength


[2]

Find a place to live


[3]

Lead people


[4]

Change negatives to positives


[5]

Relieve tension

Other Energy

[1]

Talisman against evil


[2]

Get individuality


[3]

Grab good luck without missing


[4]

Brighten people


[5]

Purification of energy

The meaning of Black Tourmaline is a talisman to protect you from evil spirits. Especially the gemstone is used as a spiritual talisman. The absolute blackness of its gemstone is believed to protect you from all the negative energies.
---
There are varieties of black gemstones as a talisman. Black Tourmaline is one of the most popular stones as a black talisman. The gemstone is cherished as a talisman all over the world. If you are unable to decide which to choose for a talisman, try Black Tourmaline to experience its benefits. Its popularity manifests its actual performances.
---
Black Tourmaline is also called "Schorl". If you find Schorl stone, this is the same stone as Black Tourmaline.
---
The meaning of Black Tourmaline also includes discovering your true self. It has been believed that Black Tourmaline brings out your innate abilities and energies. If you want to be pro-active and to bring more happiness, try wearing Black Tourmaline to experience its benefits. It is also effective for the people who are leaders and encourage people as part of your job. Black Tourmaline changes negative into positive energies and gives good influences on the people around you.
---
Our aura can get disturbed every day due to various causes. Black Tourmaline can fix the disturbances. If you choose the stone as jewelry, pick the design you feel comfortable to use. If you can not wear the stone as jewelry, try rough stones or small articles. As long as you can place Black Tourmaline where you can see all the time, you can get its benefits.
---
It is also useful for meditation and mindfulness exercises. This is very simple. Hold a gemstone with your non-dominant hand, close your eyes and breathe deeply. If you are overwhelmed by anxiety and sadness, try this method. Black Tourmaline can release your negative energy and change it into positive energy. When you meditate, imagine the energy of Mother Earth. Try meditation at the places where you can relax such as your bedroom or living room. If you do not feel comfortable meditating, place the stone under the pillow when you sleep. Black Tourmaline can purify your accumulated negative energy while you are asleep.
---
The meaning of Black Tourmaline also includes healing. The gemstone is not just a talisman but also balances out your energy. Black color is a collection of entire colors and activates all the energies. If you improve your energy circulation or improve your fortune, try Black Tourmaline.
Chakra Chart of Black Tourmaline
9th Heaven Chakra
[God]

8th Air Chakra
[Cloud]

7th Crown Chakra
[Soul]

6th Third Eye Chakra
[Wisdom]

5th Throat Chakra
[Voice]

4th Heart Chakra
[Love]

3rd Solar Plexus Chakra
[Light]

2nd Sacral Chakra
[Guts]

1st Root Chakra
[Life]

Black Tourmaline
[Person] Will Power
Black Tourmaline Data
Chemical formula
AB3C6[X3Y | (BO3)3 | Si6 O18
Mohs scale
7-7.5
Specific gravity
3.03-3.31
Production
Brazil
Tanzania
Kenya
Combination

+ Ruby
Extract morale to its maximum

+ Morion
Don't allow evil energy to come close
Author Hayasaka Yoshino

Hayasaka Yoshino is a stone healer that usually works in Tokyo area, Japan. Yoshino is also famous as a fortune teller and seen over 10,000 people. "Fortune-telling counseling", which finds out the best gemstone for the client, received a high reputation. Representative director of LWE Co., Ltd.
Other Gemstone Recommendation