Blue Goldstone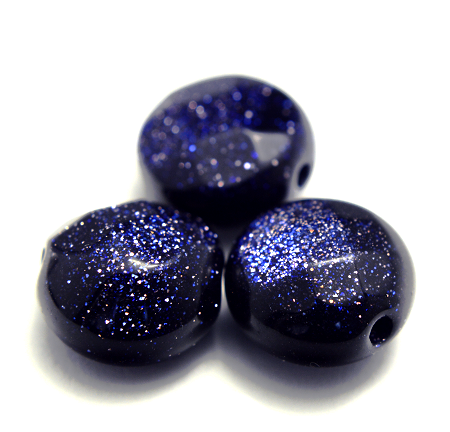 Love and Relationships

[1]

Make love fulfilled


[2]

Success of bargaining


[3]

Shine charms


[4]

Take back confidence


[5]

Make your heart jump

Money and Business

[1]

Launch a new business


[2]

Encourage calm judgement


[3]

A new idea is created


[4]

Change failures to success


[5]

Get an idea for success

Other Energy

[1]

Emotionally stable


[2]

Talisman against evil


[3]

Open up the future by yourself


[4]

Make thoughts positive


[5]

Cut off past influences

Blue Goldstone is a gemstone with a meaning and effect to help achieving your goals. It would strengthen your cool-headed decision making and lets you achieve your goal steadily. It is also good to use when you need to think deeply or need to have stable feelings. Blue Goldstone also has the power to create new ideas. You would be able to reconsider old thinking and reorganize things. It is a useful gemstone when you want to stop the influence from the past.
---
Blue Goldstone has a meaning and effect of enhancing its owner's energy. It is recommended for people who want energy to open up the future. This gemstone possesses very positive power. Blue Goldstone also has a meaning and effect of purifying energy. People have believed its power to protect them from negative energy. It is a popular gemstone for an amulet.
---
Blue Goldstone is actually not a gemstone, it is artificial glass. It is made from glass and copper. The shine inside is so beautiful that it was popular for accessories. It is supported by many people even though it is an artificial gemstone. Usually, it is made into bracelets or necklaces. Goldstone is a gemstone that has several kinds of colors. There are gold and green other than Blue Goldstone. The meanings and the effects will differ by its color, so please choose the one you prefer. Blue Goldstone is the most popular one.
---
Goldstone is a gemstone that was made during medieval times. At the time, a monk was making a glass. And he poured copper chips into the glass by accident. He thought it was a big failure, but very beautiful glass was made. This technique has been carried on for hundreds of years until now. From this story, it is known as a gemstone that can change failure to success or a gemstone that can create new value. It is useful when you want to start a new business or want a good idea for success.
---
Blue Goldstone has a meaning and effect of giving positive energy to its owner. The sparkle inside would bring out your positive power. It is a gemstone that can change your thoughts positively. You would be able to have a support to achieve your dreams or goals. Blue Goldstone would give its owner courage and self-confidence. Please use it to open up a bright future.
Chakra Chart of Blue Goldstone
9th Heaven Chakra
[God]

8th Air Chakra
[Cloud]

7th Crown Chakra
[Soul]

Blue Goldstone
[Wisdom] Thinking Ability

5th Throat Chakra
[Voice]

4th Heart Chakra
[Love]

3rd Solar Plexus Chakra
[Light]

2nd Sacral Chakra
[Guts]

1st Root Chakra
[Life]

0th Earth Chakra
[Person]
Combination

+ Aventurine
Give courage and confidence to the owner

+ Kyanite
Cut off old thoughts and concepts
Author Hayasaka Yoshino

Hayasaka Yoshino is a stone healer that usually works in Tokyo area, Japan. Yoshino is also famous as a fortune teller and seen over 10,000 people. "Fortune-telling counseling", which finds out the best gemstone for the client, received a high reputation. Representative director of LWE Co., Ltd.
Other Gemstone Recommendation