Blue Moonstone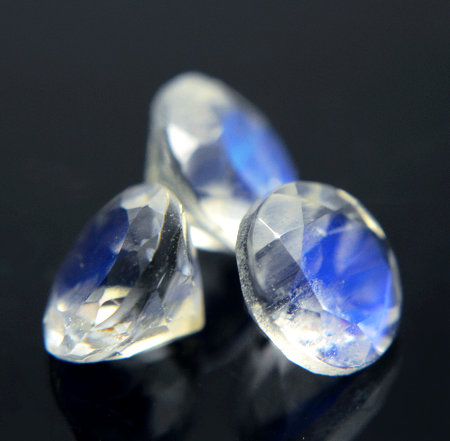 Love and Relationships

[1]

Attract a fatal meeting


[2]

Deepen a tie with a partner


[3]

Find a good feeling of distance


[4]

Love each other honestly


[5]

Respect each other's feelings

Money and Business

[1]

Grab opportunities for success


[2]

Blooming latency


[3]

Get an inspiration


[4]

Encourage calm judgement


[5]

Fulfillment of desire

Other Energy

[1]

Guide life to the right direction


[2]

Make a feeling positive


[3]

See the inside of your mind calmly


[4]

Take a new step


[5]

Amulet for trips

Blue Moonstone is a gemstone that has a meaning and properties of leading your life to the right way. It would support you gently just like moonlight lighting up the road at night. This gemstone is useful when you want to take the correct way or when you want to overcome difficulty. Blue Moonstone has special structure inside, so its surface shines in blue. It has been sanctified from ancient times because of this mystic phenomenon. Many people still wear it for an amulet the present day.
---
Blue Moonstone is a gemstone that is considered to have the power of goddess. It is known for the meaning and properties of great healing. Its energy is soft and gentle, so it is good for gemstones beginners, too. Blue Moonstone can heal your mind and feelings tenderly. It is useful when you want to calm down your feelings. This gemstone can balance excessive energy and brings you back to peaceful condition. It is also good to use when you want to reconsider yourself in a calm state.
---
Blue Moonstone has a meaning and properties of making the owner feel positive. The moonlight power inside would light up your heart. It is a gemstone that can shine owner's aura brighter. Blue Moonstone would let you recognize the happiness of life. It would bring in bright and positive energy to your heart. If your trauma from the past is affecting you in a bad way, it would heal that at the same time. Blue Moonstone is a gemstone that can heal subconscious mind deep inside you.
---
There are many types of Moonstones and the meanings and the effects change. Blue Moonstone is the most popular one. It has been loved by people for more than 2,000 years. Since then, it was considered as a holy gemstone and people handled it with great care. Blue Moonstone is a superior gemstone both in name and reality. Also, there are white, yellow, green, pink, gray, and black colored Moonstones. Please choose the best Moonstone for yourself.
---
Blue Moonstone has a meaning and properties of bringing in new chances. The energy of light inside would broaden owner's horizons. It is a good gemstone to find new potential. This gemstone is also useful when you want to recognize what you really want. It would make you feel brighter by broadening your world. Blue Moonstone is a gemstone that would give hope to your life.
Chakra Chart of Blue Moonstone
9th Heaven Chakra
[God]

8th Air Chakra
[Cloud]

7th Crown Chakra
[Soul]

Blue Moonstone
[Wisdom] Thinking Ability

5th Throat Chakra
[Voice]

4th Heart Chakra
[Love]

3rd Solar Plexus Chakra
[Light]

2nd Sacral Chakra
[Guts]

1st Root Chakra
[Life]

0th Earth Chakra
[Person]
Combination

+ Pearl
Support ideal realization
Author Hayasaka Yoshino

Hayasaka Yoshino is a stone healer that usually works in Tokyo area, Japan. Yoshino is also famous as a fortune teller and seen over 10,000 people. "Fortune-telling counseling", which finds out the best gemstone for the client, received a high reputation. Representative director of LWE Co., Ltd.
Other Gemstone Recommendation