Purple Agate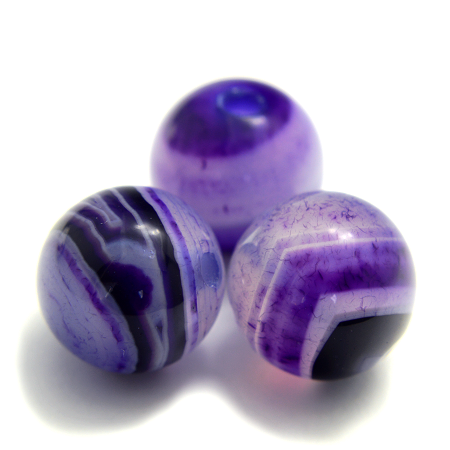 Love and Relationships

[1]

Decide on your preparedness to love


[2]

Stabilize relationships


[3]

Protect an important person


[4]

Find an adequate sense of distance


[5]

Tie a bond

Money and Business

[1]

Create unique value


[2]

Overcome difficulties


[3]

Increase work efficiency


[4]

Enhance creativity


[5]

Win a rival

Other Energy

[1]

Talisman against evil


[2]

Enrich your sensibility


[3]

Fulfill dreams


[4]

Adjustment of energy balance


[5]

Become stronger from the core of the heart

Purple Agate has a meaning and properties of adjusting energy balance. It would give you positive energy if you are gloomy and it would save your power if you have too much energy. Purple Agate is a helpful gemstone when you want to keep your best condition. Your work efficiency would improve by keeping your energy stable. It is good for people who need to keep good performance constantly.
---
Purple Agate has a meaning and properties of strengthening mental power. In the old days, many soldiers used this gemstone as a good luck charm. They put it on their breastplates and prayed for victory. It would give you the strength to do things until the end. Purple Agate is popular as an amulet for bearing up well under difficulties. Please use it if you have a dream or hope to achieve.
---
Purple Agate is a gemstone that is used to enhance owner's creativity. Many famous artists and designers highly support it. This gemstone can awaken unique sense that is not normal. It would help you make creative work or service.
---
Agate is a gemstone that has many color variations. Some are natural and some are dyed. Almost any kinds of colors will be available if we include dyed ones. The structure of Agate is easy to dye. For a long time, it has been used to make colorful accessories. Most of the Purple Agate sold in stores is dyed. You can enjoy its beautiful color and patterns.
---
Since Agate has so many color variations, the colors available will be different in each store. The number of gemstones they have will depend on shop owners. Some stores can have several kinds and some stores can have only one kind. If you want Purple Agate, you definitely need to check the stores which colors they have. Red and black are usually popular and not many stores have purple one. It might be easier just to order it.
---
Purple Agate is a gemstone with a meaning and properties of talisman. It has been valued as a powerful protecting gemstone. It would protect the owner from various kinds of disaster. The talisman effect of Purple Agate is also effective for others. It is useful when you want to protect your dearest family or peers. Please use it if you have many people that you want to protect.
Chakra Chart of Purple Agate
9th Heaven Chakra
[God]

8th Air Chakra
[Cloud]

Purple Agate
[Soul] Intuition

6th Third Eye Chakra
[Wisdom]

5th Throat Chakra
[Voice]

4th Heart Chakra
[Love]

3rd Solar Plexus Chakra
[Light]

2nd Sacral Chakra
[Guts]

1st Root Chakra
[Life]

0th Earth Chakra
[Person]
Combination

+ Carnelian
Significantly increase action ability
Author Hayasaka Yoshino

Hayasaka Yoshino is a stone healer that usually works in Tokyo area, Japan. Yoshino is also famous as a fortune teller and seen over 10,000 people. "Fortune-telling counseling", which finds out the best gemstone for the client, received a high reputation. Representative director of LWE Co., Ltd.
Other Gemstone Recommendation