Green Kyanite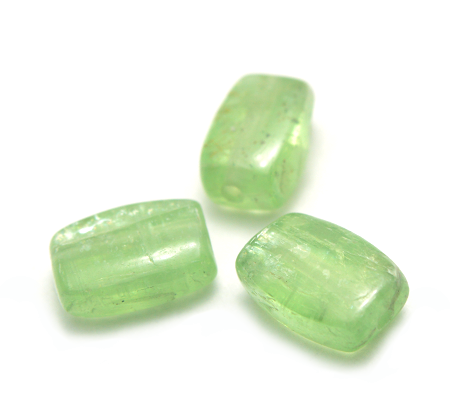 Love and Relationships

[1]

Enhance love energy


[2]

Gain confidence in yourself


[3]

Understand another deeply


[4]

Take an opportunity


[5]

Make love games a success

Money and Business

[1]

Improve planning skills


[2]

Improvement of comprehension


[3]

Grab the customer's heart


[4]

Catch the information you need


[5]

Support the continuation of efforts

Other Energy

[1]

Becomes stronger in your core


[2]

Increase inspiration


[3]

Adjust energy balance


[4]

Get a good fortune to become popular


[5]

Increase self-esteem

Green Kyanite is a gemstone with a meaning and properties of filling your heart with love. It has been loved by people as a gemstone that has condensed love energy. You would be able to have self-confidence and courage by having your heart filled up with love. Please use it to increase self-recognition and self-affirmation. Green Kyanite is good for people who easily get influenced by others or people who have difficulty making decisions.
---
Green Kyanite has a meaning and properties of increasing understanding ability. It is especially effective for knowing other people's feelings and thoughts. It would sense human's love wave motion and let the owner understand it. If you get involved with people daily, please try the meanings and effects of Green Kyanite. It would support you to meet people's demands well. This gemstone is highly valued by therapists and counselors who need to work with people's mind deeply. It is also good for artists and performers who need to get many fans. We can say that it is a good gemstone for people whose work has importance on popularity.
---
Green Kyanite is a gemstone with a meaning and properties of balancing owner's energy. The green color has been used to vitalize the energy around the heart. It would excrete negative energy in your mind and bring in positive energy instead. Green Kyanite is useful when you are in a situation that makes you tired or when you are doing a tough job.
---
Blue Kyanite is the most popular type. Basic meanings and effects are the same, but their special properties are slightly different. It is better to change with your usage by comparing Green Kyanite and Blue Kyanite. Green Kyanite is much rarer than Blue Kyanite. It is usually more expensive than other kinds of Kyanite because of its rareness. When you look for stores that have it, please check the market price at the same time.
---
Green Kyanite is a gemstone with a meaning and properties of enhancing owner's intuitivity. People have believed that it is useful for catching invisible information. Please use it to enhance your inspiration. The meanings and the effects of Green Kyanite is good for people who work in planning or designing section. You would be able to get brand new idea that no one had before.
Chakra Chart of Green Kyanite
9th Heaven Chakra
[God]

8th Air Chakra
[Cloud]

7th Crown Chakra
[Soul]

6th Third Eye Chakra
[Wisdom]

5th Throat Chakra
[Voice]

Green Kyanite
[Love] Tolerance

3rd Solar Plexus Chakra
[Light]

2nd Sacral Chakra
[Guts]

1st Root Chakra
[Life]

0th Earth Chakra
[Person]
Combination

+ Sphene
Regain the spark of the soul
Author Hayasaka Yoshino

Hayasaka Yoshino is a stone healer that usually works in Tokyo area, Japan. Yoshino is also famous as a fortune teller and seen over 10,000 people. "Fortune-telling counseling", which finds out the best gemstone for the client, received a high reputation. Representative director of LWE Co., Ltd.
Other Gemstone Recommendation