Ruby In Fuchsite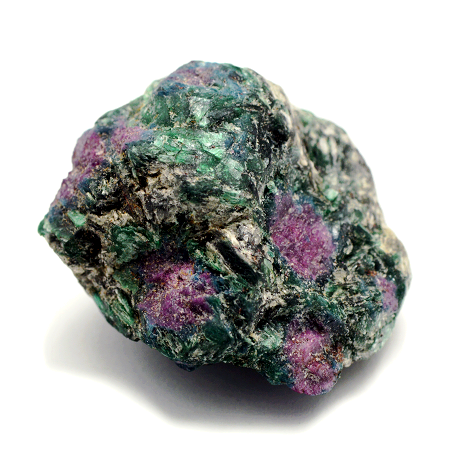 Love and Relationships

[1]

Loved from the surroundings


[2]

Have confidence in yourself


[3]

Resolve romance problems


[4]

Strengthen ties


[5]

Take the measure of a good match

Money and Business

[1]

Improvement of work performance


[2]

Get an idea for success


[3]

Increase your sense of responsibility


[4]

Overcome pressures


[5]

Advance problem solving

Other Energy

[1]

Improve vitality


[2]

Strengthen mental strength


[3]

Increase analytical power


[4]

Eliminate loneliness


[5]

Increase expressiveness

Ruby in Fuchsite is a gemstone with a meaning and properties of enhancing owner's vitality. It would gather energy in your body and lets you do a good performance. Ruby in Fuchsite can gather the energy around you and the energy you have. It is good to use when you want to show more than 100% of your ability.
---
Ruby in Fuchsite has been believed for its power to enhance intuition. It is useful to sense invisible energy around you and express it. If you are working in the service industry or design industry, please try the power of Ruby in Fuchsite. It is also effective for getting good ideas for success. This is also a good gemstone for people who work in planning or development field.
---
Ruby in Fuchsite is a gemstone that has a meaning and properties of improving mental power. It can make your mind strong so you don't easily get affected by stress. This gemstone is highly supported by people who have high mental stress, working in the medical field or therapists. It is also recommended for people in the field of education or law. You would be able to have strong mentality to get things done to the end.
---
Ruby in Fuchsite is a mixed gemstone of red Ruby and green Fuchsite. Great meanings and effects will be generated by the synergistic effect of two gemstones. It is good for people who are not fully satisfied with regular Ruby. Some of them have more green color and some have more red color. Please choose the one you prefer.
---
Ruby in Fuchsite is a pretty rare gemstone in the market. It would be better to get one when you find it luckily. It is a rare gemstone that most of the stores don't have. If you can't find one, it might be quicker just to order in a specialty store.
---
Ruby in Fuchsite is a gemstone with a meaning and properties of solving problems. It would analyze the problem and leads people to a solution. This quality is effective for both love and business. It would light your way to make a progress. This gemstone can clear stuck feeling of your life.
---
Ruby in Fuchsite has a meaning and properties of enhancing love energy. It is known as a gemstone that gives power to the owner and the others. It is useful when you want to have more confidence or loved by people correctly. Ruby in Fuchsite is a gemstone that can clear loneliness. Your future would be lighted brightly by filling love energy to your life.
Chakra Chart of Ruby In Fuchsite
9th Heaven Chakra
[God]

8th Air Chakra
[Cloud]

7th Crown Chakra
[Soul]

6th Third Eye Chakra
[Wisdom]

5th Throat Chakra
[Voice]

Ruby In Fuchsite
[Love] Tolerance

3rd Solar Plexus Chakra
[Light]

2nd Sacral Chakra
[Guts]

Ruby In Fuchsite
[Life] Life Energy

0th Earth Chakra
[Person]
Combination
Author Hayasaka Yoshino

Hayasaka Yoshino is a stone healer that usually works in Tokyo area, Japan. Yoshino is also famous as a fortune teller and seen over 10,000 people. "Fortune-telling counseling", which finds out the best gemstone for the client, received a high reputation. Representative director of LWE Co., Ltd.
Other Gemstone Recommendation