Dzi Bead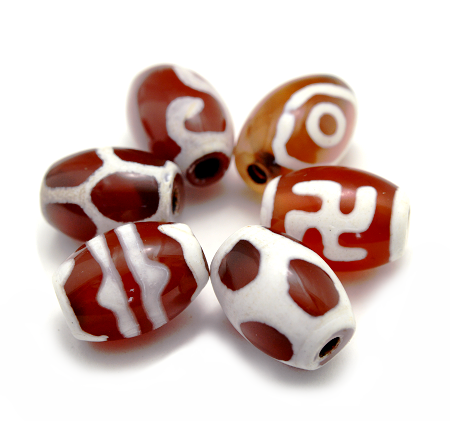 Love and Relationships

[1]

Get a sincere partner


[2]

Deepen mutual understanding


[3]

Grab the chance without missing


[4]

Prevent conflict


[5]

Increase children's luck

Money and Business

[1]

Absorb knowledge


[2]

Pull out the latent talent


[3]

Increase property


[4]

Decrease mistakes


[5]

Succeed at the shortest distance

Other Energy

[1]

Talisman against evil


[2]

Improve the flow of luck


[3]

Gain vitality


[4]

Purify energy


[5]

Increase concentration

Dzi Bead is a gemstone with a meaning and properties of an amulet. In Tibet, it has been loved as a good-luck charm for Buddhists. It is a sacred item that is considered to have the energy from the heavens. Dzi Bead would protect the owner from many kinds of disasters. It is also used to pray for physical and mental wellness and no sickness.
---
Dzi Bead is a gemstone that has a meaning and properties of enhancing owner's ability. The pattern on Dzi Bead's surface will be the magic square to bring out your skills. Dzi Bead with an eye-pattern, for example, would improve your attention and concentration. The meanings and the effects will differ by the pattern, so please choose the best one for you.
---
Dzi Bead is a gemstone that is used to make owner's life richer. Because many travelers and merchants who wore it made big money, now it is used for a good-luck charm for better fortune. It was mainly used in Buddhist temples before, but it is loved by many people in the world these days. It is one of the famous amulets in Asia.
---
The shape of Dzi Bead changes greatly by its type. Some are made into thin shape and some are made into round shape. Usually, Agate is used as material. Sometimes, there are inferior products made of plastic, so please don't buy cheap ones. You won't get good effects if Dzi Bead is not made of gemstones.
---
If you want to buy one, you have to find a specialty shop that has good knowledge of Dzi Beads. Not all gemstone shops have it, so you need to check in advance. Some stores can have many kinds, but some stores can have only one kind. If you want to choose the type of Dzi Bead, it might be better just to order. It is usually made into bracelets when you see in stores. If you combine with other gemstones, it will be a great bracelet with a big synergistic effect.
---
Dzi Bead has a meaning and properties of purifying negative energy. By making owner's energy shine, it can fill light in owner's body. It will clear darkness by bright light. Please use it when your mind is becoming negative or when you have a negative chain reaction. You would be able to build a bright future by using Dzi Bead.
---
Dzi Bead is known for its meaning and properties of enhancing owner's learning skills. Dzi Bead is a crystal of wisdom since it has been studied and verified in the local area. By wearing it, learning motivation will be stimulated and you would be able to analyze things deeply. This gemstone will give the greatest knowledge to the people who work hard to study.
Chakra Chart of Dzi Bead
9th Heaven Chakra
[God]

8th Air Chakra
[Cloud]

7th Crown Chakra
[Soul]

6th Third Eye Chakra
[Wisdom]

5th Throat Chakra
[Voice]

4th Heart Chakra
[Love]

3rd Solar Plexus Chakra
[Light]

Orange Dzi Bead
[Guts] Persistence

Red Dzi Bead
[Life] Life Energy

Black Dzi Bead
[Person] Will Power
Combination

+ Amethyst
Not be influenced by evil energy

+ Eye Agate
Gain the results by making efforts
Author Hayasaka Yoshino

Hayasaka Yoshino is a stone healer that usually works in Tokyo area, Japan. Yoshino is also famous as a fortune teller and seen over 10,000 people. "Fortune-telling counseling", which finds out the best gemstone for the client, received a high reputation. Representative director of LWE Co., Ltd.
Other Gemstone Recommendation