Star Rose Quartz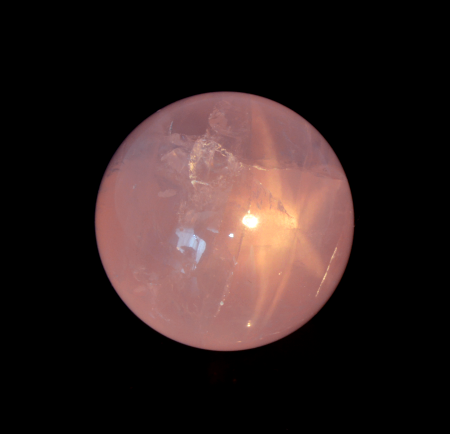 Love and Relationships

[1]

Capture the heart of the one you desire


[2]

Attract the surroundings


[3]

Attract ideal encounters


[4]

Strengthen a tie with a partner


[5]

Heal traumas of the past

Money and Business

[1]

Increase aesthetic sense


[2]

Make relationships better


[3]

Pull out hidden talents


[4]

Become positive


[5]

Get a good fortune to become popular

Other Energy

[1]

Have confidence in yourself


[2]

Solve problems


[3]

Build a bright future


[4]

Heal the mind and body


[5]

Improvement of beauty luck

Star Rose Quartz is a gemstone that fills your heart with love. It is used to increase love luck and improve relationships. From ancient times, it has been valued as a gemstone that has the energy of goddess and angels. Star Rose Quartz gives love to you and others around you. It is a gemstone that heals everyone.
---
Star Rose Quartz has a star-shaped shine inside. The ones without shine are regular Rose Quartz. Light energy is added to Rose Quartz and it becomes stronger. It is recommended if you want to use powerful Rose Quartz or need positive energy.
---
Star Rose Quartz has a meaning and properties of enhancing your ability. The light energy inside would vitalize owner's energy. It would light the hidden talent and brings it out as your skill. If you want to have more self-confidence or power to survive, it is a good gemstone to have. Star Rose Quartz will help you build a bright future. It is a gemstone that has brilliant meanings and effects.
---
Star Rose Quartz is also called "a gemstone of love." Beautiful pastel pink gives the impression of love. This gemstone is popular for its kind and tender atmosphere. The name of Star Rose Quartz came from rose, as its name shows. It has been loved as "a rose that never dies" from ancient times.
---
Star Rose Quartz is a gemstone that can get eternal beauty and love. It is considered to have a beautiful shine of rose in the crystal. It is often used as a good-luck charm to keep the love with the partner or to keep the bonds with peers. Star Rose Quartz also has a meaning and properties of keeping your beauty. It is good to use when you want to increase beauty luck or keep your popularity. Star Rose Quartz is a gemstone that can cover all kinds of things related to beauty or love. It is also recommended for people working in service industry or people who need popularity for work.
---
Star Rose Quartz is a gemstone with strong healing power. The goddess of healing would recover your weary mind. It has a meaning and properties of healing your heart and recover to the state before you get hurt. Star Rose Quartz is an effective gemstone to clear your trauma. The light energy would purify all the anxiety and sorrow experienced in the past.
Chakra Chart of Star Rose Quartz
9th Heaven Chakra
[God]

8th Air Chakra
[Cloud]

7th Crown Chakra
[Soul]

6th Third Eye Chakra
[Wisdom]

5th Throat Chakra
[Voice]

4th Heart Chakra
[Love]

3rd Solar Plexus Chakra
[Light]

2nd Sacral Chakra
[Guts]

Star Rose Quartz
[Beauty] attractiveness

0th Earth Chakra
[Person]
Combination
Author Hayasaka Yoshino

Hayasaka Yoshino is a stone healer that usually works in Tokyo area, Japan. Yoshino is also famous as a fortune teller and seen over 10,000 people. "Fortune-telling counseling", which finds out the best gemstone for the client, received a high reputation. Representative director of LWE Co., Ltd.
Other Gemstone Recommendation