Tiger Iron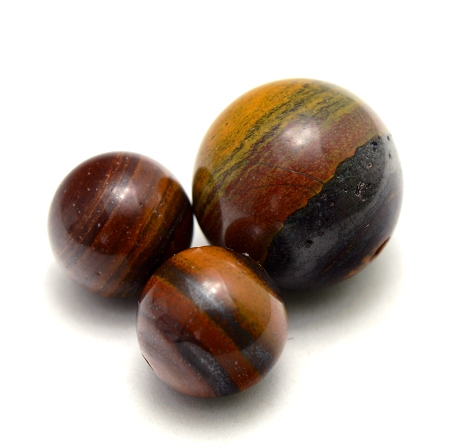 Love and Relationships

[1]

Tie a bond


[2]

Exercise charm


[3]

Distinguish the feelings of another


[4]

Be positive


[5]

Win a rival of love

Money and Business

[1]

Increase execution


[2]

See through the truth


[3]

Accomplish the goal


[4]

Proceed in the right direction


[5]

Increase sales ability

Other Energy

[1]

Extract latent potential


[2]

Increase intuition


[3]

Create new energy


[4]

Detect crisis


[5]

Improve the flow of luck

Tiger Iron is a gemstone that can awaken instincts of human. It has meaning and properties of bringing out potential. As its name shows, Tiger Iron is a gemstone that symbolizes a tiger. It would awaken wild potential and enhance your basic abilities. If you want to increase your overall power, please try using Tiger Iron.
---
Tiger Iron has meaning and properties of enhancing intuition. The energy of tiger's eye inside this gemstone can see through anything. It would see invisible things such as the future and people's feelings. It is a gemstone preferred by business managers who need to decide business policy, or therapists who need to touch people's hearts. It will be also good for people involved in the field of design or art.
---
Tiger's Eye is a gemstone that has variations. The most famous type is Tiger's Eye with yellow color. Other than that, there are Tiger's Eye in colors of blue, red, and black. Each of them has different meanings and properties, so please choose the best one for you. Tiger Iron is a special type of Tiger's Eye that contains Iron mineral. Iron is very heavy, and it has strong connection with the ground. If you want to have practical thinking or want to return unnecessary energy to the earth, it will be a good gemstone to use.
---
Tiger Iron is a gemstone that can increase its owner's stamina. Iron is considered as a symbol of blood, and has the power to generate energy. If you don't have enough energy, please try the meanings and the properties of Tiger Iron. You would be able to get the energy to achieve your dreams or goals. It is a good gemstone to use when you want to enhance your fighting spirit or motivation.
---
Tiger Iron has meaning and properties of sensing danger. Just like a tiger living in the wild, this gemstone will release your instincts. You would be able to avoid danger by using your wild instinct. From old times, Tiger's Eye has been considered to have a strong effect to ward off evil spirits. Still in the present day, many people use Tiger's Eye as an amulet.
---
Tiger Iron is a gemstone that can give courage to its owner. It is useful when you want to feel positive or have some power to take actions. It will be good to use when you want to make progress on love or increase sales on business. Tiger Iron can push all kinds of energy forward. It is also recommended for people who want to improve the flow of luck.
Chakra Chart of Tiger Iron
9th Heaven Chakra
[God]

8th Air Chakra
[Cloud]

7th Crown Chakra
[Soul]

6th Third Eye Chakra
[Wisdom]

5th Throat Chakra
[Voice]

4th Heart Chakra
[Love]

Yellow Tiger Iron
[Light] Productivity

2nd Sacral Chakra
[Guts]

Red Tiger Iron
[Life] Life Energy

0th Earth Chakra
[Person]
Combination

+ Hematite
Hold victory with powerful power
Author Hayasaka Yoshino

Hayasaka Yoshino is a stone healer that usually works in Tokyo area, Japan. Yoshino is also famous as a fortune teller and seen over 10,000 people. "Fortune-telling counseling", which finds out the best gemstone for the client, received a high reputation. Representative director of LWE Co., Ltd.
Other Gemstone Recommendation