Auralite 23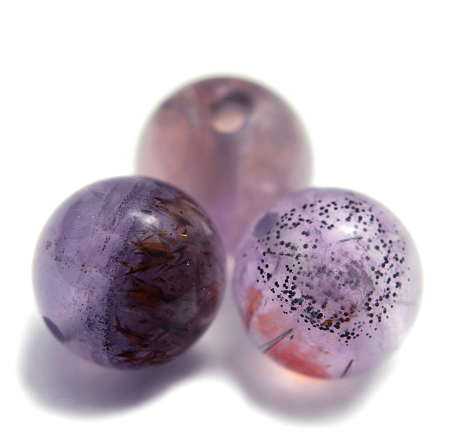 Love and Relationships

[1]

Enhance affections


[2]

Attract a good match


[3]

Find a comfortable sense of distance


[4]

Communication ability up


[5]

Release each other's tension

Money and Business

[1]

Blooming latency


[2]

Get an inspiration


[3]

Create new values


[4]

Have a bout of innovative ideas


[5]

Accomplish the goal

Other Energy

[1]

Make a positive feeling


[2]

Activate energy


[3]

Balance emotions


[4]

Promote mental growth


[5]

Heal all energy

Auralite 23 has meaning and properties of vitalizing energy. This gemstone would free the energy where it is stagnant. At the same time, it would also wash off negative energy. It is good to use when you tend to keep your feelings inside you.
---
Auralite 23 has meaning and properties of enhancing its owner's potential. This gemstone would bring out 100% of the power you have. Please use it when you feel like your self-esteem is low. By making the full use of your power, you would be able to have self-confidence.
---
Auralite 23 is a gemstone that can enhance inspiration. It is useful when you think your thoughts and ideas are always kind of same. It will free you from old-fashioned values and let you have brand-new ideas. Auralite 23 is a gemstone that can make its owner's thoughts flexible. You would be able to have big results by getting new information.
---
Auralite 23 is a gemstone that has many kinds of minerals combined. It was named Auralite 23 because the ore contained 23 kinds of minerals. Although each bead doesn't contain 23 minerals, they still have multiplex energy. Each of them has different colors since 23 types of gemstones are combined. Purple, brown, yellow, and clear, each gemstone has different mood. Please choose the best color for you.
---
Auralite 23 is a rare gemstone that you can hardly ever find it in the market. Only limited amount of ore exists and only few stores have it. The price is higher than regular gemstones. You really need to work hard to find one if you need it. But the power will absolutely worth your effort. It is mostly sold in bracelets.
---
Auralite 23 has meaning and properties to unify its owner's thoughts. It would organize scattered information and lead you to the answer. Please use it when you want to have clear answer. Auralite 23 is also useful when you want to analyze yourself correctly. Your instability of feelings will be reduced by understanding your opinion well. Please use it to improve concentration, too.
---
Auralite 23 is a gemstone with very strong healing power. It would heal negative factors and adjust your energy balance. By using it, you would be able to get back calm feelings. Your body will become positive if you use Auralite 23 for a long time. By having brighter mind, your energy will be younger.
Chakra Chart of Auralite 23
9th Heaven Chakra
[God]

8th Air Chakra
[Cloud]

Purple Auralite 23
[Soul] Intuition

6th Third Eye Chakra
[Wisdom]

5th Throat Chakra
[Voice]

4th Heart Chakra
[Love]

3rd Solar Plexus Chakra
[Light]

Brown Auralite 23
[Guts] execution power

Red Auralite 23
[Life] Life Energy

Black Auralite 23
[Person] Will Power
Combination
Author Hayasaka Yoshino

Hayasaka Yoshino is a stone healer that usually works in Tokyo area, Japan. Yoshino is also famous as a fortune teller and seen over 10,000 people. "Fortune-telling counseling", which finds out the best gemstone for the client, received a high reputation. Representative director of LWE Co., Ltd.
Other Gemstone Recommendation