Garden Quartz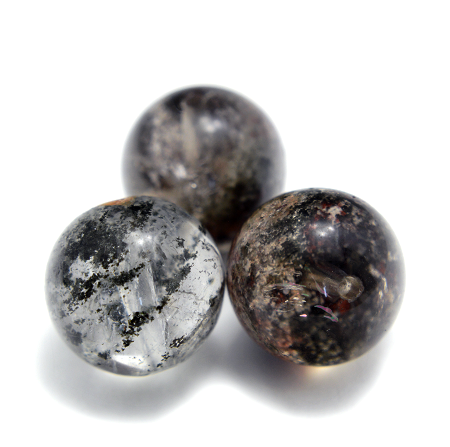 Love and Relationships

[1]

Accomplishment of a good match


[2]

Develop affection


[3]

Take back your honest self


[4]

Repair relationships


[5]

Amulet of family peace

Money and Business

[1]

Find a suitable job


[2]

Increase ability


[3]

Broaden your connections


[4]

Accomplish a desire


[5]

Increase property

Other Energy

[1]

Clear the mind


[2]

Smooth the relationship


[3]

Foster independence


[4]

Enhance vitality


[5]

Build up a bright future

Garden Quartz is a gemstone with a meaning and effect to make your wish come true. It is known as a gemstone that can embody the dreams and hopes of its owner's. As its name is, Garden Quartz is a gemstone that symbolizes a garden. People have believed its power of forests and plants from old times. The power of nature would release its owner's emotion. It would awaken the true feelings deep inside your heart and lead you to make it happen.
---
Garden Quartz has a meaning and effect of improving communications skills. Just like the forests where many kinds of trees living together, it would harmonize the relationships between people. It is a useful gemstone when you want to enhance love energy. This would be the best gemstone to increase love luck or home luck. It is also good to use when you want to make progress of the relationship with a person who you like, or fix the relationship between people being estranged for a while.
---
Garden Quartz can fix hurt feelings or trauma in the past. It is a gemstone with a meaning and effect related to revival and recovery. Because it symbolizes forests, it has been known for its great regeneration energy. Garden Quartz would dissolve negative energy from the past and reconstruct it. New hope will be seeded, and you will be able to build a bright future. Garden Quartz is an energetic gemstone with full of love.
---
Another name for Garden Quartz is Chlorite Quartz. You can find the same gemstone in both names. Garden Quartz is one of the kind in Quartz category. There are green, red, orange, and brown components mixed in Quartz. Each of them has different mood, so some people have several Garden Quartz for collection. Some of them have more green color, and some of them have more red color. Please find a good Garden Quartz with the color you like.
---
Garden Quartz is a gemstone that symbolizes nature, so it is often used for meditation. It has a meaning and effect of making your emotional state natural. Doing meditation with Garden Quartz is very easy. You can try it easily without any special knowledge. First, hold Garden Quartz in your hand lightly. Please hold it in the opposite of your dominant hand (or the hand with stronger grip). Then, close your eyes and breathe deeply several times. You can either sit down or lay down, both is acceptable. When you start to relax, you would be able to feel warmth from Garden Quartz. During this state, please tell your wish to Garden Quartz. Your wish will go deeply inside Garden Quartz and gives you the power to make it true. It is very easy to do, so please give it a try.
Chakra Chart of Garden Quartz
White Garden Quartz
[God] Creativity

8th Air Chakra
[Cloud]

7th Crown Chakra
[Soul]

6th Third Eye Chakra
[Wisdom]

5th Throat Chakra
[Voice]

Green Garden Quartz
[Love] Tolerance

Yellow Garden Quartz
[Light] Productivity

Brown Garden Quartz
[Guts] execution power

Red Garden Quartz
[Life] Life Energy

Black Garden Quartz
[Person] Will Power
Combination

+ Sunstone
Promote expansion of a business
Author Hayasaka Yoshino

Hayasaka Yoshino is a stone healer that usually works in Tokyo area, Japan. Yoshino is also famous as a fortune teller and seen over 10,000 people. "Fortune-telling counseling", which finds out the best gemstone for the client, received a high reputation. Representative director of LWE Co., Ltd.
Other Gemstone Recommendation