Royal Blue Moonstone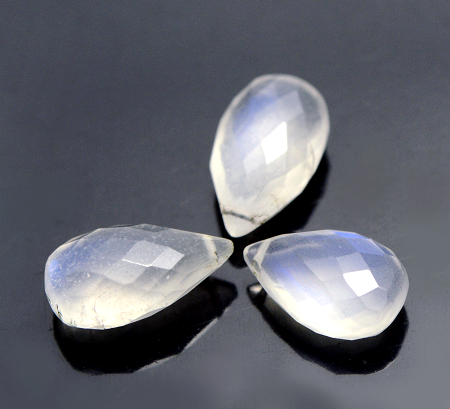 Love and Relationships

[1]

Increase a sense of unity


[2]

Attract a fatal meeting


[3]

Promote mutual understanding


[4]

Strengthen bonds


[5]

Acquire credit

Money and Business

[1]

Explore a bright future


[2]

Awaken a new talent


[3]

Increase Empathy


[4]

Urge correct judgment


[5]

Improve the workplace environment

Other Energy

[1]

Fix the direction of life


[2]

Be who you want to be


[3]

Make relationships better


[4]

Lighten your mood


[5]

Survive trauma

Royal Blue Moonstone is a gemstone which is said to make us see the future vision. In some regions, it is passed down as it will make you see the future in your dream. It has been said that you will become to recognize the future correctly and will not hesitate to go ahead. The history of Moonstone is long and it's worn by people for thousands of years. It is a gemstone whose mysterious tradition is left in each country of the world. It is loved by various people who are seeking a magical power even in modern times.
---
Royal Blue Moonstone is a gemstone that has a meaning and properties to give a feeling of happiness. The pale shine which lives inside is considered as a symbol of hope and happiness. It has been believed to fill the owner's heart with light. Your heart and soul brighten up and you gain positive energy by this gemstone. The positive energy encapsulated in Royal Blue Moonstone is sent to the depth of the heart. It will heal gently the trauma of the past that you have forgotten.
---
Royal Blue Moonstone is the best gemstone to improve love luck and family luck. As a guardian stone to strengthen ties with important people, it's worn by people all over the world. It has been believed to improve empathy such as the earth and the moon are good partners. It is said that bonds will improve by deeply understanding each other. It is also effective for relationships with others but lovers and family members. Please use it when you want to improve friend relationships or when you are doing a lot of work with people.
---
Royal Blue Moonstone is very beautiful and priceless. Blue shine can be confirmed more than normal Blue Moonstone. It has been said that stronger meaning and properties can be obtained because of its strong radiance which is the source of power. Royal Blue Moonstone is mainly treated as a gem. It is not a cheaply available gemstone, so please check the market in advance. Since the distribution volume is small, it is not always possible to obtain the gemstone even if you make a budget. If you need a Royal Blue Moonstone, please look for a specialty store with patience. Once you find your favorite, it will become a treasure for a lifetime.
---
Royal Blue Moonstone is a gemstone symbolizing "moon" as its name. There is a meaning and properties to change life as the moon passing from one phase to another. It will be able to correct the owner's life in the direction the owner wishes. You can wear it when you want to change yourself or when a turning point of life is coming to you etc. To get the power of the Royal Blue Moonstone it is better to process it as an accessory. Types of necklaces, pierced earrings and bracelets are popular.
Chakra Chart of Royal Blue Moonstone
9th Heaven Chakra
[God]

8th Air Chakra
[Cloud]

7th Crown Chakra
[Soul]

Royal Blue Moonstone
[Wisdom] Thinking Ability

5th Throat Chakra
[Voice]

4th Heart Chakra
[Love]

3rd Solar Plexus Chakra
[Light]

2nd Sacral Chakra
[Guts]

1st Root Chakra
[Life]

0th Earth Chakra
[Person]
Combination

+ Prehnite
Adapt to changes in the environment
Author Hayasaka Yoshino

Hayasaka Yoshino is a stone healer that usually works in Tokyo area, Japan. Yoshino is also famous as a fortune teller and seen over 10,000 people. "Fortune-telling counseling", which finds out the best gemstone for the client, received a high reputation. Representative director of LWE Co., Ltd.
Other Gemstone Recommendation